Global Finance

Names the 2012 World's Best Derivatives Providers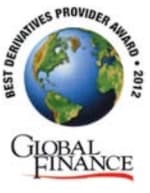 NEW YORK, October 18, 2012

The editors of

Global Finance

have announced the winners of its Best Derivatives Providers awards for 2012. A full report on the awards and the winners will appear in the December issue of

Global Finance

. This is the eighth year

Global Finance

has selected banks and exchanges as winners and the first time the awards have been presented as part of our Best Global Risk Management Awards report, which honor the entire universe of risk management, insurance and derivative provices.

Global Finance

s editors based selections primarily on in depth interviews and email exchanges with end users of derivatives. Among the sources were financial research analysts, traders, risk managers of financial and nonfinancial corporations, as well as portfolio managers of mutual funds and hedge funds, with an emphasis on funds and corporations that have distinguished themselves with relative outperformance since the global financial crisis of 2008. Providers also had the opportunity to submit entries for consideration.
Sources considered a range of subjective and quantitative criteriasuch as transaction pricing, product innovation, the quality of information that providers supply in the process of executing a deal, the breadth of liquid names in which a provider makes markets, a providers willingness to use its own balance sheet to offer liquidity to a client, and the inclination of a provider to step into the breach in a high-risk situation.
Another important criterion that clients cite in choosing a provider is pricing. As sweeping regulatory reforms in derivatives trading seize both the US and the EU, and regulators succeed in driving more trading onto the worlds largest securities exchanges, commissions and spreads are becoming more transparent than ever. This historic development has given clients a clear advantage in negotiations with their providers in a year marked by increasingly unpredictable swings in the equity, commodities and currency markets.
In a year of undulating markets and uncertainty, with Europes sovereign debt crisis and fear of a global slowdown, derivatives providers have once again come under close scrutiny by their clientssimilar to what we saw during the global financial crisis in 2008. Our winners are those who have the confidence of their clients as they face unknown challenges ahead, said Joseph Giarraputo, publisher of

Global Finance

.
The full list of winners by type of product, region, and exchange awards for Performance and Achievement follows.
For editorial information please contact: Andrea Fiano, Editor, email:

afiano@gfmag.com

To obtain the World's Best Derivatives Providers Award logo, please contact Chris Giarraputo:

chris@gfmag.com

| | |
| --- | --- |
| Best Interest Rate Derivatives Provider | Goldman Sachs |
| Best Credit Derivatives Provider | Bank of America Merrill Lynch |
| Best Equity Derivatives Provider | J.P. Morgan |
| Best FX Derivatives Provider | Citi |
| Best Commodity Derivatives Provider | J.P. Morgan |
| | |
| --- | --- |
| Best Interest Rate Derivatives Provider | Deutsche Bank |
| Best Credit Derivatives Provider | Deutsche Bank |
| Best Equity Derivatives Provider | Socit Gnrale |
| Best FX Derivatives Provider | Deutsche Bank |
| Best Commodity Derivatives Provider | BNP Paribas |
| | |
| --- | --- |
| Best Interest Rate Derivatives Provider | Standard Chartered |
| Best Credit Derivatives Provider | BNP Paribas |
| Best Equity Derivatives Provider | Socit Gnrale |
| Best FX Derivatives Provider | HSBC |
| Best Commodity Derivatives Provider | Macquarie Group |
| | |
| --- | --- |
| Best Derivatives Provider | HSBC |
| | |
| --- | --- |
| Best Derivatives Provider | Citi |
| | |
| --- | --- |
| Achievement Award | Eurex Group |
| Performance Award | CME Group |