Global Finance names the 2011 World's Best Emerging Market Banks in Africa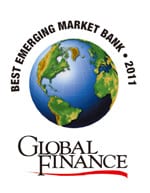 NEW YORK, March 24, 2011

Global Finance

magazine has named the Best Emerging Market Banks in Africa in an exclusive survey to be published in the May 2011 issue.

Global Finance

editorswith input from industry analysts, corporate executives and banking consultantsselected the best emerging market bank in the region and in 22 countries. No awards given this year for Coted dIvoire or Libya. Criteria for choosing the winners included growth in assets, profitability, strategic relationships, customer service, competitive pricing, and innovative products.
This is the eighteenth year that the magazine has selected top banking performers in emerging markets. The report covers best banks in Asia, the Middle East and Africa, Latin America, and Central and Eastern Europe. We remain in an unusually challenging environment for banks and their customers, says Joseph Giarraputo, publisher of

Global Finance

. More than ever, customers are demanding superior competence from their banking partners. These are the banks best providing that competence.


Regional Winner: Standard Chartered Bank




Algeria


Arab Banking Corporation Algeria


Angola


Banco Espirito Santo Angola


Botswana


Standard Chartered Bank Botswana


Democratic Republic of Congo


Standard Bank Congo


Cote dIvoire


No Award Given

Djibouti

International Commercial Bank-Djibouti


Ethiopia


Nib International Bank


Gambia


Standard Chartered Bank Gambia


Ghana


Ghana Commercial Bank

Guinea

International Commercial Bank Guinea

Kenya

Barclays Bank of Kenya

Libya

No Award Given

Mauritius

Mauritius Commerical Bank

Morocco

Attijariwafa Bank

Mozambique

Millennium bim

Namibia

Standard Bank Namibia

Nigeria

FirstBank

Rwanda

Banque Commercial du Rwanda

Senegal

CBAO Attijariwafa Bank

Sierra Leone

International Commercial Bank-Sierra Leone

South Africa

Standard Bank

Sudan

Al Salam Bank Sudan

Togo

Ecobank

Tunisia

Banque Internationale Arabe de Tunisie

Uganda

Stanbic Bank Uganda

Zambia

Standard Chartered Bank Zambia