Global Finance names the World's Best Emerging Market Banks 2011 in Asia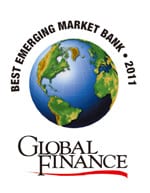 NEW YORK, March 24, 2011

Global Finance

magazine has named the Best Emerging Market Banks in Asia in an exclusive survey to be published in the May 2011 issue.

Global Finance

editorswith input from industry analysts, corporate executives and banking consultantsselected the best emerging market bank in the region and in 20 countries. Criteria for choosing the winners included growth in assets, profitability, strategic relationships, customer service, competitive pricing, and innovative products.
This is the eighteenth year that the magazine has selected top banking performers in emerging markets. The report covers best banks in Asia, the Middle East and Africa, Latin America, and Central and Eastern Europe. We remain in an unusually challenging environment for banks and their customers, says Joseph Giarraputo, publisher of

Global Finance

. More than ever, customers are demanding superior competence from their banking partners. These are the banks best providing that competence.


Regional Winner: HSBC




Armenia


HSBC Bank Armenia


Azerbaijan


AccessBank


Bangladesh


AB Bank


China


ICBC


Georgia


Bank of Georgia


India


HDFC Bank


Indonesia


PT Bank Central Asia


Kazakhstan


Halyk Bank

Kyrgyz Republic

Demir Kyrgyz

Macau

ICBC Macau

Malaysia

Maybank

Mongolia

Khan Bank

Pakistan

National Bank of Pakistan

Philippines

Bank of the Philippine Islands

South Korea

Shinhan Bank

Sri Lanka

Commerical Bank of Ceylon

Taiwan

Chinatrust Commercial Bank

Thailand

Siam Commerical Bank

Uzbekistan

Credit-Standard Bank

Vietnam

Asia Commercial Bank