Global Finance

names the World's BestEmerging Market Banks 2012 in Latin America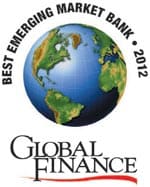 NEW YORK, March 20, 2012


Global Finance

magazine has named the Best Emerging Market Banks inLatin America in an exclusive survey to be published in the May 2012 issue.

Global Finance

editorswithinput from industry analysts, corporate executives and banking consultantsselected the best emergingmarket bank in the region and in 24 countries. Criteria for choosing the winners included growth inassets, profitability, strategic relationships, customer service, competitive pricing, and innovative products.
This is the ninteenth year that the magazine has selected top banking performers in emerging markets.The report covers best banks in Asia, the Middle East, Africa, Latin America, and Central and EasternEurope. We remain in an unusually challenging environment for banks and their customers, says JosephGiarraputo, publisher of

Global Finance

. More than ever, customers are demanding superior competencefrom their banking partners. These are the banks best providing that competence.
For editorial information please contact: Andrea Fiano, Editor, email:

afiano@gfmag.com

| | |
| --- | --- |
| Regional Winner | Santander |
| Argentina | Banco Macro |
| Barbados | Scotiabank Barbados |
| Belize | Belize Bank |
| Bolivia | Banco de Crdito de Bolivia |
| Brazil | Ita Unibanco |
| Chile | Banco Santander Chile |
| Colombia | Bancolombia |
| Costa Rica | Scotiabank Costa Rica |
| Dominican Republic | Banco Popular Dominicano |
| Ecuador | Banco Pichincha |
| El Salvador | Banco Agrcola |
| Guatemala | Banco Agromercantil |
| Honduras | Banco Atlntida |
| Jamaica | Scotiabank Jamaica |
| Mexico | Banamex |
| Nicaragua | Banco Lafise Bancentro |
| Panama | Banco General |
| Paraguay | Ita Unibanco |
| Peru | BBVA Banco Continental |
| Puerto Rico | Banco Santander Puerto Rico |
| Trinidad & Tobago | Scotiabank Trinidad & Tobago |
| Turks & Caicos | Scotiabank Turks & Caicos |
| Uruguay | Banco Santander Uruguay |
| Venezuela | BBVA Banco Provincial |