Global Finance

names the World's Best Foreign Exchange Providers 2013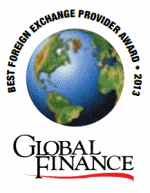 NEW YORK, November 27, 2012


Global Finance

magazine has named the Best Foreign Exchange Banks and Providers by country, region and category in an exclusive survey to be published in the January 2013 issue. Deutsche Bank was named as the global winner.

Global Finance

editors with input from industry analysts, corporate executives and technology experts also selected the best currency trading providers in 97 countries or regions. The best online foreign exchange systems were also identified. Criteria for choosing the traditional and online winners included transaction volume, market share, scope of global coverage, customer service, competitive pricing and innovative technologies.

The foreign exchange market, the worlds largest, trades $4 trillion on an average day. Banks are investing heavily in new technology as they strive to maintain market share. Corporations need a good FX bank to guide them through the growing risks and rewards in evolving global markets, says Joseph D. Giarraputo, publisher and president of

Global Finance

.
For editorial information please contact: Andrea Fiano, Editor, email:

afiano@gfmag.com

| | |
| --- | --- |
| North America | Citi |
| Western Europe | Deutsche Bank |
| Asia-Pacific | HSBC |
| Southeast Asia | DBS |
| Nordic Countries | SEB |
| Central and Eastern Europe | Socit Gnrale |
| Latin America | Citi |
| Middle East | National Bank of Kuwait |
| Africa | Standard Bank |
| | |
| --- | --- |
| Algeria | Citi |
| Angola | BES Angola |
| Argentina | Citi |
| Armenia | Ameriabank |
| Australia | Commonwealth Bank of Australia |
| Austria | Bank Austria |
| Bahrain | Ahli United Bank |
| Belarus | Belarusbank |
| Belgium | KBC |
| Botswana | Stanbic Botswana |
| Bulgaria | Citi |
| Brazil | Ita Unibanco |
| Canada | Scotiabank |
| Chile | Banco Santander Chile |
| China | Bank of China |
| Colombia | Bancolombia |
| Costa Rica | Citi |
| Cyprus | Bank of Cyprus |
| Czech Republic | CSOB |
| Denmark | Danske Bank |
| Ecuador | Citi |
| Egypt | CIB |
| El Salvador | Citi |
| Estonia | Swedbank |
| Finland | Nordea |
| France | BNP Paribas |
| Gambia | Standard Chartered |
| Georgia | TBC Bank |
| Germany | Deutsche Bank |
| Greece | Alpha Bank |
| Guatemala | Citi |
| Honduras | Citi |
| Hong Kong | HSBC |
| Hungary | OTP Bank |
| India | HSBC |
| Indonesia | DBS Indonesia |
| Ireland | Citi |
| Israel | Bank Leumi |
| Italy | UniCredit |
| Jamaica | Scotiabank Jamaica |
| Japan | Mitsubishi UFJ Financial |
| Jordan | Arab Bank |
| Kazakhstan | Halyk Bank |
| Kenya | Standard Chartered |
| Kuwait | National Bank of Kuwait |
| Latvia | SEB |
| Lebanon | BLOM Bank |
| Lithuania | SEB |
| Macedonia | Komercijalna Banka ad Skopje |
| Malaysia | Maybank |
| Mexico | Banamex |
| Moldova | Moldova Agroindbank |
| Netherlands | ING |
| New Zealand | ANZ |
| Nigeria | Stanbic IBTC Bank |
| Norway | SEB |
| Oman | BankMuscat |
| Pakistan | Standard Chartered |
| Paraguay | Banco Ita Paraguay |
| Peru | Scotiabank Pru |
| Philippines | HSBC |
| Poland | Bank Pekao |
| Portugal | Banco Santander Totta |
| Qatar | Qatar National Bank |
| Romania | Banca Comerciala Romana (BCR) |
| Russia | VTB Capital |
| Saudi Arabia | Samba Financial Group |
| Sierra Leone | Standard Chartered |
| Singapore | DBS |
| Slovakia | CSOB |
| Slovenia | UniCredit |
| South Africa | Standard Bank |
| South Korea | KEB |
| Spain | Santander |
| Sweden | SEB |
| Switzerland | Credit Suisse |
| Syria | Bank of Syria and Overseas |
| Taiwan | Chinatrust Commercial Bank |
| Thailand | Siam Commercial Bank |
| Turkey | Akbank |
| Ukraine | PrivatBank |
| United Arab Emirates | Emirates NBD |
| United Kingdom | HSBC |
| United States | Citi |
| Honorable Mention | BNY Mellon |
| Uruguay | Citi |
| Venezuela | Banco Mercantil |
| Vietnam | Vietcombank |
| Zambia | Stanbic Zambia |
| | |
| --- | --- |
| Best FX Reserach | BNY Mellon |
| Best Fundamental Analysis | Brown Brothers Harriman |
| Best Technical Analysis | BNY Mellon |
| Best Forecasts | BNY Mellon |
| Best Strategy/Hedging | Deutsche Bank |
| | |
| --- | --- |
| Best Bank | Deutsche Banks Autobahn |
| Best Independent | FXall |
| Best Retail | Forex Capital Markets (FXCM) |