ANNUAL SURVEY: UNCERTAINTY BREEDS CURRENCY VOLATILITY
By Gordon Platt
Global Finance selects the leaders in the world's biggest financial market, where trading averages $4 trillion a day.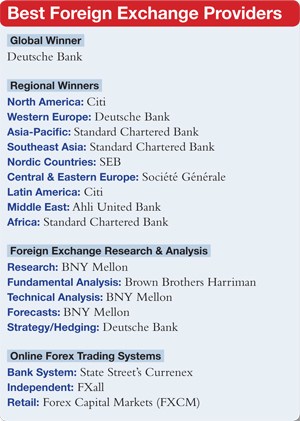 Europe's sovereign debt crisis, China's monetary tightening and the Federal Reserve's quantitative easing are creating turbulence in the foreign exchange market. Uncertainty about the outcome of these events has heightened volatility and increased the need for protection from currency exposure in global business dealings and investments. Meanwhile, foreign exchange remains one of the fastest-growing asset classes, and average daily volume has reached $4 trillion.
Emerging market currencies account for a growing share of the trading, as investors and multinational corporations increase their exposure to the fast-growing markets of Asia, Africa and Latin America. The best foreign exchange banks provide the customer service and advice to enable their clients to take advantage of the new opportunities in international markets without falling victim to sudden adverse currency moves.
Celent, a Boston-based consulting firm, says growth in trading is being driven mainly by the spot foreign exchange market. It also sees a big opportunity in the further expansion of electronic trading in Asia. FX prime brokerage is growing in stature, and algorithmic trading is becoming more common. Celent estimates that 50% of active traders use FX algorithms, up from 33% in 2008.
The foreign exchange market is continuing to evolve, as technology advances and potentially dramatic regulatory changes are being considered. Better risk-management and hedging techniques are emerging. Corporations around the world need to select a strong, knowledgeable FX bank to help them cope with the turbulence in the markets, which is greater than has ever been seen before.
In this year's foreign exchange awards, Global Finance selected Deutsche Bank as the global winner. We also chose the leading foreign exchange banks in 86 countries or regions, as well as the best online trading systems, including bank-owned, independent and retail trading systems. In addition, Global Finance selected the best bank for foreign exchange research, as well as separate award winners for fundamental research, technical research, currency forecasts, and strategy and hedging.
With input from industry analysts, corporate executives and technology experts, Global Finance selected the winners based on a range of objective and subjective factors. Our criteria included transaction volume, market share, global coverage, customer service, competitive pricing and technology.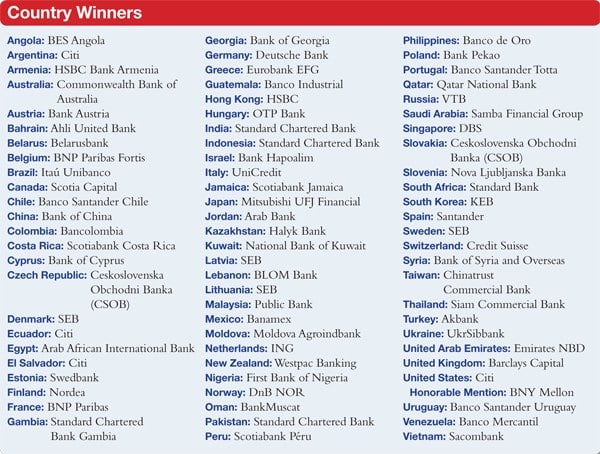 WINNERS BY CATEGORY