Global Finance names the World's Best Investment Banks 2011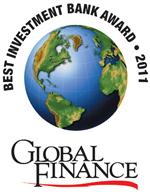 New York, February 22, 2011

Global Finance announces its selection of theWorld's Best Investment Banks 2011 to be published in its April 2011 issue.

Global Finance editors, with input from industry experts, used a series of criteria toarrive at their selections. These included market share, number and size of deals,service and advice, structuring capabilities, distribution network, efforts to addressmarket conditions, innovation, pricing, after-market performance of underwritingsand market reputation. Deals announced or completed in 2010 were considered.

"The investment banking industry has changed as a result of the financial crisis,"said Global Finance publisher Joseph D. Giarraputo. "The best institutions are thosethat have a business model focused on customer needs."

For editorial information please contact: Dan Keeler, Editor, email: dan@gfmag.com
| | |
| --- | --- |
| Best Investment Bank | Morgan Stanley |
| Best Equity Bank | Morgan Stanley |
| Best Debt Bank | Barclays Capital |
| Best M&A; Bank | Morgan Stanley |
| Best Up-and-Comer | QInvest |
| Most Creative | Bank of America Merrill Lynch |
| | |
| --- | --- |
| Consumer | Credit Suisse |
| Financial Institutions | Bank of America Merrill Lynch |
| Health Care | J.P. Morgan |
| Infrastructure | Scotia Capital |
| Industrial/Chemicals | J.P. Morgan |
| Media/Entertainment | J.P. Morgan |
| Metals & Mining | BMO Capital Markets |
| Oil & Gas | Bank of America Merrill Lynch |
| Power | Morgan Stanley |
| Real Estate | J.P. Morgan |
| Technology | Credit Suisse |
| Telecom | J.P. Morgan |
| | |
| --- | --- |
| NORTH AMERICA | |
| Best Investment Bank | Morgan Stanley |
| Best Equity Bank | Morgan Stanley |
| Best Debt Bank | Barclays Capital |
| Best M&A; Bank | Morgan Stanley |
| WESTERN EUROPE | |
| Best Investment Bank | Morgan Stanley |
| Best Equity Bank | Morgan Stanley |
| Best Debt Bank | Deutsche Bank |
| Best M&A; Bank | Morgan Stanley |
| ASIA | |
| Best Investment Bank | Morgan Stanley |
| Best Equity Bank | Morgan Stanley |
| Best Debt Bank | Standard Chartered Bank |
| Best M&A; Bank | Morgan Stanley |
| CENTRAL & EASTERN EUROPE | |
| Best Investment Bank | Bank of America Merrill Lynch |
| Best Equity Bank | Bank of America Merrill Lynch |
| Best Debt Bank | J.P. Morgan |
| Best M&A; Bank | Morgan Stanley |
| NORDIC | |
| Best Investment Bank | SEB |
| Best Equity Bank | Bank of America Merill Lynch |
| Best Debt Bank | DnB NOR |
| Best M&A; Bank | SEB |
| LATIN AMERICA | |
| Best Investment Bank | Citi |
| Best Equity Bank | Bank of America Merrill Lynch |
| Best Debt Bank | Citi |
| Best M&A; Bank | Credit Suisse |
| MIDDLE EAST | |
| Best Investment Bank | SambaCapital |
| Best Equity Bank | SambaCapital |
| Best Debt Bank | HSBC |
| Best M&A; Bank | Morgan Stanley |
| AFRICA | |
| Best Investment Bank | Standard Bank |
| Best Equity Bank | Vetiva Capital Management |
| Best Debt Bank | Standard Bank |
| Best M&A; Bank | J.P. Morgan |

NORTH AMERICA

Canada
Scotia Capital
United States
Morgan Stanley

EUROPE

France
BNP Paribas
Germany
Deutsche Bank
Italy
Mediobanca
Netherlands
ING
Portugal
Caixa BI
Russia
VTB Capital
Spain
Morgan Stanley
Switzerland
Credit Suisse
Turkey
Garanti Securities
United Kingdom
J.P. Morgan

ASIA

Australia
UBS Investment Bank
China/Hong Kong

China International

Capital Corporation (CICC)

India
Morgan Stanley
Indonesia
Mandiri Sekuritas
Japan
Daiwa Capital Markets
Kazakhstan
Halyk Finance
Singapore
Standard Chartered Bank
South Korea
Bank of America Merrill Lynch
Taiwan
Fubon Financial Holding

LATIN AMERICA

Argentina
Citi
Brazil
BTG Pactual
Chile
LarrainVial
Colombia
Banca de Inversion Bancolombia
Mexico
Citi

MIDDLE EAST

Bahrain
Gulf International Bank (GIB)
Egypt
Arab African International Bank
Israel
HSBC Bank
Jordan
Arab Bank
Kuwait
Markaz
Lebanon
BankMed
Oman
BankMuscat
Qatar
QInvest
Saudi Arabia
SambaCapital
United Arab Emirates

Emirates NBD Capital


AFRICA

Nigeria
Vetiva Capital Management
South Africa
Standard Bank
| | |
| --- | --- |
| Global | Skadden |
| North America | Skadden |
| Western Europe | Freshfields Bruckhaus Deringer |
| Asia | Linklaters |
| Central & Eastern Europe | Cleary Gottlieb Steen & Hamilton |
| Latin America | Cleary Gottlieb Steen & Hamilton |
| Middle East & Africa | Linklaters |
Best Equity Deal


Lead manager:



Global Bookrunners:


Petrobas $70 Billion Stock Sale

Banco Bradesco BBI

Bank of America Merrill Lynch,

Citi, Santander, Morgan Stanley, and Itau BBA

Best Debt Deal


Lead Managers


$4.4 Billion Merck bond

Bank of America Merrill Lynch, BNPParibas, and Commerzbank

Best M&A; Deal

Bharti Airtel's acquisition of Zain'sAfrican operations

Advising target
UBS Investment Bank
Advising Acquirer
Standard Chartered Bank,Barclays Capital, SBI Group, andGlobal Investment House