By Anita Hawser
Maybank
With Malaysia accounting for more than 70% of total global sukuk issued, Maybank spearheaded a number of major deals. For the period under review it recorded 23 deals made up of 133 issues denominated in Malaysian ringgit and US dollars. In terms of global sukuk, Maybank says it has a market share of 18%, and a 30% market share for Malaysian ringgit sukuk. According to Bloomberg statistics provided by the bank, it leads the sukuk market in terms of amount issued in ringgit and US dollars, as well as number of issues. It played a key role as joint lead manager and book runner in the Malaysian government's US dollar sovereign sukuk, which was the first global sovereign dollar sukuk in 2011 devised according to the shariah principle of wakala. Maybank Investment Bank Berhad was also joint lead manager on the 30.6 billion ringgit infrastructure sukuk for Projek Lebuhraya Usahasama–the largest-ever global sukuk issuance and Malaysia's single largest so far.
Tengku Dato' Zafrul Tengku Abdul Aziz, CEO / www.maybank-ib.com
Jordan Islamic Bank
Jordan Islamic Bank continues to innovate in the retail space with the provision of Internet and mobile SMS banking services. It has continued to expand its network, rolling out new branches. JIB provides incentive awards to savings accounts holders and users of ATM cards. In 2012 the bank's stated aim is continued expansion of individuals' financing based on shariah principles as well as the rolling out of new electronic banking services. It was the first bank in Jordan to issue Chip and PIN debit cards. The bank has more than 60 branches and more than 100 ATM machines across the kingdom.
Musa Shihadeh, chairman and general manager / www.jordanislamicbank.com
Best Islamic Investment Bank
Samba
SambaCapital, the investment arm of Samba Financial Group, participated in a number of significant financing transactions, including a project finance sukuk for Saudi Aramco Total Refining and Petrochemical Company. According to Samba, it was the first shariah-compliant greenfield project sukuk with the highest degree of shariah purity in terms of participation from Islamic financial institutions. The complexity of the transaction entailed integrating shariah-compliant sukuk into multisource conventional financing arrangements. It also advised on a refinancing strategy for Mobily, which sold airtime to subscribed customers. The title to the airtime was transferred to an airtime facility agent, which used funds provided by Islamic participants to pay Mobily for the sale of the airtime. The bank says it has the significant balance sheet to sustain large-scale financing and to play a leading role in megadeals. It also provides a wide range of equity, real estate and trade finance funds. Outside of Saudi Arabia, the bank boasts a presence in UAE, Pakistan, the UK and Qatar.
Eisa Al Eisa, chairman SambaCapital / sambacapital.samba.com
Best Takaful (Insurance) Provider
Etiqa Takaful Berhad
The insurance and takaful arm of Maybank Group provides a range of Islamic takaful products covering families, individuals and businesses. Malaysia is among the world's largest takaful markets. In 2011, Hans De Cuyper, CEO of Etiqa Insurance and Takaful, stated that the company had reached a contribution mark of 2 billion ringgit, reportedly the highest in the world for a direct takaful writer. In 2011, Etiqa increased its gross written premiums to $1.36 billion. Cuyper stated that Etiqa was the largest takaful company in the world and with a strong player in Islamic finance such as Maybank behind it, Etiqa is likely to maintain its leading position for some time to come.
Hans De Cuyper, CEO / www.etiqa.com.my
Best Asset Management Company
CIMB Principal Islamic Asset Management
CIMB Principal Islamic Asset Management, which is a partnership between Principal Global Investors and CIMB Group Holdings Berhad, is extending its reach into the European market with the launch of operations in Ireland. It is the first Malaysia-based international Islamic funds platform domiciled in Dublin, and to mark the occasion the Malaysian firm launched three new UCITS-compliant equity funds: the Islamic Global Emerging Markets Fund; the Islamic Asia-Pacific ex-Japan Fund; and the Islamic Asean Equity Fund. These funds will be distributed throughout Europe, Asia and the Middle East and their launch solidifies ongoing efforts to establish Malaysia as an Islamic financial hub.
Datuk Noripah Kamso, CEO / www.cimb-principalislamic.com
Best Shariah-Compliant Index Provider
Dow Jones Islamic Market Indexes
Dow Jones is a leading provider of stock market indexes for Islamic financing. It was the first index provider to benchmark shariah-compliant stocks and prides itself on its rigorous screening process. A wide range of stocks are carefully screened to ensure they meet shariah standards for debt levels, acceptable business activities and products and interest income. It provides a range of indexes covering blue chip stocks, fixed income and broader markets—including global, regional, country and industry. Its shariah supervisory board contains leading scholars from around the world. Dow Jones's pioneering role has inspired other index providers to launch Islamic stock indexes. The field is starting to look a little crowded, but Dow Jones can say it was there first.
Michael Petronella, president, Dow Jones Indexes / www.djindexes.com
Best Islamic Project Finance Provider
SABB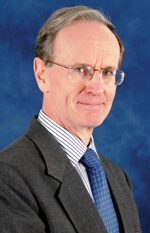 David Dew, SABB
SABB, an associate of the HSBC Group, provides a range of Islamic finance solutions via the Amanah brand. 2011 saw SABB advise and arrange a number of key transactions, including acting as lead arranger for a $2.8 billion Islamic facility to finance the largest independent gas-fired power plant in the world. Financing was raised using both Islamic and conventional means as well as participation from key export-import bank facilities. The Islamic segment contributed just over half of the financing. SABB says the deal reinforced its credentials in project financing as well as the ability of Islamic finance to work alongside conventional financing. The deal also saw SABB draw upon the expertise of HSBC Saudi Arabia, which was the original mandated lead arranger under the Kexim (Export Import Bank of Korea) guarantee facility and Kexim coordinating bank on the project financing. Other project finance deals where both banks have worked alongside have seen them structure and attain shariah approvals in record time, as well as promote the use of Islamic financing structures in the petrochemicals sector.
David Dew, managing director / www.sabb.com
Best Islamic Commodities Provider
International Islamic Trade Finance Corporation
The ITFC, a part of the Islamic Development Bank, is an industry leader in commodities-based Islamic finance transactions. In April, ITFC signed a $180 million, syndicated-structured murabaha framework agreement with Morocco's Societe Anonyme Marocaine de l'Industrie du Raffinage for the import of crude oil and petroleum products. It is reportedly the first structured trade finance agreement of its kind in favor of the Moroccan public sector. It also used the murabaha structure to provide $855 million in import financing to Bangladesh to import crude oil and refined petroleum. It is also playing a key role in supporting Egypt's food requirements by providing financing for the import of petroleum as well as wheat and foodstuffs.
Dr. Waleed Al-Wohaib, CEO / www.itfc-idb.org
Best Islamic Real Estate Finance Provider
Gatehouse Bank
The real-estate team of Kuwaiti-owned, London-based Islamic investment bank, Gatehouse Bank has a strong track record in the real estate sector, when it comes to structuring high-quality deals. It continues to benefit from Gulf investor interest in UK and US commercial real estate markets. In January it announced that it had surpassed the half-billion US dollar mark in real estate investment acquisitions, including a US-based student property portfolio. It also successfully realized its investment in a US-based medical facility, which saw a return on equity of 21% over the acquisition cost of $44.8 million. Within two years, Gatehouse stated that it had made in excess of £300 million ($487 mn) in real-estate investments. In the UK, Gatehouse has acquired a data center in the south of England, office buildings in Basingstoke leased to Fujitsu Services, as well as a Rolls-Royce facility in Glasgow, Scotland.
Fahed Boodai, chairman / www.gatehousebank.com
Best Islamic Fund Manager
Falcom Financial Services
With 10 mutual funds under its belt, Middle East/North Africa's first ETFs (Saudi Equity and Petroleum) and new real estate funds, Falcom continues to innovate. Returns in its Saudi Equity Fund, which invests in stocks that form part of the Tadawul All Share Index, have consistently outperformed regional indicators, says Falcom, topping the second-quarter 2011 benchmark earnings index with a gain of 7%. It attributes the success of its Saudi Equity Fund to the hands-on approach of the fund's managers, who visit prospective investments to study their management strength. It also evaluates a company's earnings, asset value and cash flow potential. Throughout the recent Arab Spring uprisings its fund managers continued to assess economic conditions, remaining vigilant in case more defensive strategies needed to be deployed.
Adeeb Al-Sowailim, CEO / www.falcom.com.sa
Mega Islamic Bank
Although the Mega Islamic Bank is not established yet, it is without doubt one of the most-anticipated developments in the world of Islamic finance, given that it was first mooted back in 2009 at the height of the global financial crisis and the Gulf debt crisis. It has the backing of some of the biggest names in Islamic finance (the Al Baraka Banking Group, the Islamic Development Bank) and now appears to be well on its way to being established after the signing of a memorandum of understanding in early April between the State of Qatar, Dallah Albaraka Group and the Islamic Development Bank. The Mega Bank will be established with start-up capital of $1 billion. It will focus on funding infrastructure projects and will also contribute to standardization efforts in the world of Islamic financial products. IDB is the official sponsor of the Mega Bank, whose headquarters will be in Doha, Qatar.
Ahmad Mohamed Ali, president, IDB Group
Islamic Finance Deal of the Year
Wakala Global Sukuk Bhd
Islamic finance is often criticized for its slow pace of innovation, but deals coming out of the market in the past 12 months have put paid to that. In the past year Islamic finance has clearly demonstrated its maturity and increasing levels of sophistication and how it can form an integral part of multi-participant financing schemes alongside conventional financing. As Islamic finance is still a relatively nascent industry, so-called firsts in the market are not unusual, but the $2 billion Wakala Global Sukuk issued on behalf of the Malaysian government earns the title. The sukuk has an unusually long maturity, says Malaysia's RAM Ratings, with the inclusion of a 10-year maturity on an $800 million tranche of the $2 billion sukuk. "The long tenor…will provide further impetus to the development of the Islamic capital markets," RAM Ratings stated in its Sukuk Focus . Under the wakala structure, the holder of the sukuk appoints an agent (wakeel) to manage and invest the funds in a pool of assets (as opposed to a single asset), with the aim of attaining an agreed-upon profit. The Wakala Global Sukuk attracted investors from all over the world, including the US, Europe, Asia and the Middle East. According to RAM Ratings, the Wakala Global Sukuk has "reinvigorated" demand for sovereign sukuk and is expected to lead to similar issuances by other sovereigns.

Best Islamic Financial Firms 2012