Succession plans, taxes and cultivation of relationships were top of mind at second annual awards dinner.

---
Winston Churchill refused to listen to wealth advisors' advice and often acted contrary to what they suggested, according to David Lough, a private banker of long standing who has recently published a book entitled No More Champagne: Churchill and His Money. Lough was keynote speaker for a lively crowd at Global Finance's second annual Private Bank Awards dinner, at the Harvard Club on February 7. The audience nodded as Lough discussed Churchill's intransigence and his consequent financial woes, as well as his resilience in coming back from multiple financial crises.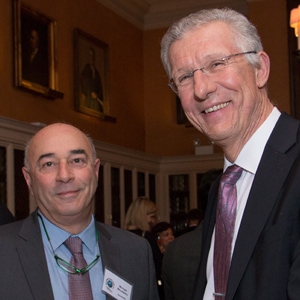 It was an evening to talk wealth management and focus on excellence in serving the private banking clientele. Conversation among the award winners ranged from current events to global trends and regulatory oversight. Global Finance recognized a host of countries and banks. While many winners sent large teams, others came singly or in pairs. All were happy to discuss key interests of ultra-high net worth clients, notably succession planning and intergenerational wealth transfer.
Bankers from Africa, North America and Scandinavia noted that many of their clients were first- or second-generation success stories who feel uncomfortable talking about money outside of business. "Our clients often thank us for helping them to discuss finances with their families, as they often find the subject difficult to address," said David Heatherly, COO, private banking for Canada and Asia at Bank of Montreal.
Private bankers in attendance emphasized that their job isn't about chasing the rich, but about building longstanding relationships. They often start working with a business founder well before he or she is ready to sell the company, developing a deep understanding of the business. That comes in handy when clients are ready to sell. But it's not just an issue of knowing the business that matters, it also involves understanding clients' personal lives, as well as their professional activities, that really makes a difference. "Relationships are the key to the success of our achievements," said Keke Nkhatho, a relationship manager at Standard Bank Wealth and Investment. "We even have a finance academy for young savers, starting at 12 years old," she says.

There's certainly much new wealth accumulating, all around the globe. "Norway is one of the 10 fastest-growing markets for private banking in the world, together with a number of countries in Asia," says Torsten Østensen, head of private banking for Nordea. New Norwegian wealth is derived largely from tech companies and other entrepreneurs, he notes, as well as the oil sector.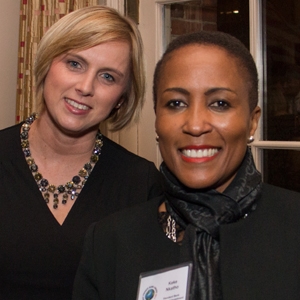 The topics under discussion ranged widely across the sector. An Austrian banker mentioned the importance of the Markets in Financial Instruments Directive (MiFID)—the European Union legislation that regulates firms offering financial services and advice; MiFID II, set to take effect on January 3, 2018, will include new regulations. Yeoh Nguan Lee, general manager for OCBC and New York agent for its wholly owned subsidiary Bank of Singapore, mentioned currency fluctuations as "an issue that the bank is monitoring." Venkatesh Kommineni, president for North America at IIFL Wealth & Asset Management, said that fees are "a big topic" with his clients. "Innovation and new applications are the name of the game" at Slovakia's Tatra banka, according to Michael Vaculik, head of the private clients department. "We are proud of our ability to facilitate our clients' banking needs with mobile devices."
In addition to intergenerational wealth transfer, a hot topic throughout the evening was cross-border taxation—an issue significant enough that some companies have in-house lawyers to deal with it.
Joan Crain, senior director and global family wealth strategist at BNY Mellon Wealth Management, who won the Industry Thought Leader award, noted that many expat workers are surprised to find they owe taxes in the US as well as in their home countries—making them, as she calls it, "accidental Americans."
The second annual dinner was a convivial evening for these global bankers to speak with their peers and colleagues and celebrate with their teams at a venerable New York institution, the Harvard Club.
Yeoh Nguan Lee, general manager of OCBC and New York agent, Bank of Singapore

Joan Crain, senior director and global family wealth strategist at BNY Mellon Wealth Management, accepted the award for Industry Thought Leader

Representing Santander, from left: Javier Martín-Pliego, Luis Bermudez and private banking CEO Alvaro Morales

From Nordea: Mikko Mäki (l), senior private banker in Finland, and Stefan von Knorring, investment director

From Citi Private Bank: Tim Sullivan, head of North America high net worth group, and Caroline Galdabini, North America marketing head

The Scotiabank delegation: Caroline Bell-Ritchie (l), managing director of global private banking relationship management, Derek Pattison, VP of wealth management, The Bahamas, and spouse Erin James, with Global Finance VP Peter McManus (r)