Global Finance names the World's Best Sub-Custodian Banks 2011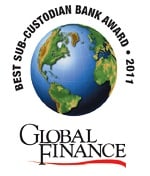 NEW YORK, May 16, 2011

Global Finance

magazine has released its eighth annual ranking of the Best Sub-Custodians. This exclusive survey will be published in the July/August issue.

Global Finance

editors and reporters, with input from expert sources, selected the winners from the institutions that reliably provide the best custody services in local markets and regions to global custodians. Our criteria included customer relations, quality of service, competitive pricing, smooth handling of exception items, technology platforms, post-settlement operations, business continuity plans and knowledge of local regulations and practices.
Sub-custodians play a critical role in safekeeping client assets, said Joseph Giarraputo, publisher of

Global Finance

. We have identified those banks that do the best job of asset servicing and protection in markets around the world.


AWARDS CEREMONY


An Awards Ceremony for all winners will be conducted the morning of MondaySeptember 26, 2011 at The National Press Club in Washington DC.
For more information on the awards and/or ceremony please contact:
Tania Vira, Special Projects/Marketing Coordinator, email:

tvira@gfmag.com


To obtain the Sub-Custodian Award logo, please write to Chris Giarraputo:

chris@gfmag.com


| | |
| --- | --- |
| North America | Citi |
| Western Europe | BNP Paribas |
| Central and Eastern Europe | UniCredit |
| Nordic Countries | SEB |
| Middle East | HSBC |
| Africa | Standard Chartered Bank |
| Asia | Standard Chartered Bank |
| Latin America | Citi |
| Caribbean | Republic Bank |
| | |
| --- | --- |
| Argentina | Citi |
| Armenia | Prometey Bank |
| Australia | HSBC |
| Austria | UniCredit |
| Bahrain | HSBC |
| Belgium | BNP Paribas |
| Brazil | Citi |
| Canada | CIBC Mellon |
| Chile | Banco de Chile |
| China | ICBC |
| Colombia | Citi |
| Croatia | Zagrebacka Banka |
| Cyprus | Marfin Laiki Bank |
| Czech Republic | CSOB |
| Denmark | SEB |
| Egypt | Commercial International Bank |
| Finland | Nordea |
| France | BNP Paribas |
| Georgia | Bank of Georgia |
| Germany | Deutsche Bank |
| Greece | Eurobank EFG |
| Hong Kong | Standard Chartered Bank |
| Hungary | UniCredit |
| Iceland | Islandsbanki |
| India | Deutsche Bank |
| Indonesia | Standard Chartered Bank |
| Ireland | HSBC |
| Israel | Bank Leumi |
| Italy | Intesa Sanpaolo |
| Japan | Sumitomo Mitsui Banking |
| Jordan | HSBC |
| Kazakhstan | HSBC |
| Kuwait | HSBC |
| Lebanon | HSBC |
| Luxembourg | BNP Paribas |
| Malaysia | Citi |
| Mexico | Banamex |
| Netherlands | BNP Paribas |
| New Zealand | HSBC |
| Nigeria | Stanbic Bank |
| Norway | Nordea |
| Oman | HSBC |
| Peru | Citi |
| Philippines | HSBC |
| Poland | ING Bank |
| Portugal | Banco Esprito Santo (BES) |
| Qatar | HSBC |
| Romania | ING Bank |
| Russia | VTB Bank |
| Saudi Arabia | SABB |
| Singapore | DBS |
| Slovakia | CSOB |
| South Africa | Standard Bank |
| South Korea | KEB |
| Spain | Santander |
| Sri Lanka | Citi |
| Sweden | SEB |
| Switzerland | Credit Suisse |
| Taiwan | Standard Chartered Bank |
| Thailand | Bangkok Bank |
| Turkey | Deutsche Bank |
| UAE | HSBC |
| Ukraine | Raiffeisen Bank Aval |
| United Kingdom | HSBC |
| United States | Citi |
| Uruguay: | Ita Unibanco |
| Venezuela | Citi |
| Vietnam | HSBC |