Global Finance names the World's Best Treasury & Cash Management Providers 2011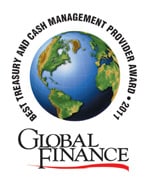 NEW YORK, January 18, 2011 Global Finance magazine has released its rankings for the Best Treasury and Cash Management Banks and Providers by category and region to be published in an exclusive survey in the March 2011 issue.

We have selected an overall global winner and an overall global winner for the Best White Label Service Provider category. We have also selected regional winners in North America, Western Europe, Central and Eastern Europe, Asia, Latin America, Middle East, Africa and the Nordic region. Additionally in each region, winning banks have been selected across four categories encompassing payments and collections, liquidity and risk management, and money market funds.

Global Finance editors with input from industry analysts, corporate executives and technology experts selected the best providers of treasury and cash management services. A variety of subjective and objective criteria were used for choosing the winners. Factors considered included: profitability, market share and reach, customer service, competitive pricing, product innovation and the extent to which treasury and cash management banks have successfully differentiated themselves from their competitors around core treasury and cash management service provision.

Awards submissions we received this year continued to reflect the changing global landscape for treasury and cash management services with increasing competition between regional, domestic and global cash management banks, particularly in regions such as Asia, the Middle East and Central and Eastern Europe to a lesser extent. Competition among treasury and cash management providers in North America is also increasing, with a number of providers stepping up their investment in solutions for treasurers in that region.

In recognition of the growing role of treasury technology providers, both bank and non-bank, we have also selected Best Treasury Management Systems & Services providers across 12 categories, including a new category, mobile banking. "In today's competitive global economic environment, treasurers need the best tools and advice available to make capital work harder than ever," says Global Finance publisher Joseph D. Giarraputo. "Our awards identify the banks and providers of products and services that consistently improve transaction processes to speed collections and reduce risks."


Global Winners



Best Overall Bank for Cash Management

Citi

Best White Label System Provider

BNY Mellon Enterprise Treasury Services


Regional Winners



Best Overall Bank for Cash Management

North America
Bank of America Merrill Lynch
Western Europe
Deutsche Bank
Asia
HSBC
Latin America
Citi
Nordic Region
SEB
CEE
UniCredit
Africa
Standard Bank
Middle East
HSBC

Best Bank for Liquidity Management

North America
J.P. Morgan
Western Europe
RBS
Asia
Standard Chartered Bank
Latin America
Citi
Nordic Region
SEB
CEE
UniCredit
Africa
Standard Chartered Bank
Middle East
HSBC

Best Provider of Money Market Funds

North America
J.P. Morgan Asset Management
Western Europe
DB Advisors
Asia
J.P. Morgan Asset Management
Latin America
Banco Bradesco
Nordic Region
Nordea
CEE
RZB/Raiffeisen International
Africa
Standard Bank
Middle East
National Bank of Kuwait

Best Bank for Risk Management

North America
Bank of America Merrill Lynch
Western Europe
Deutsche Bank
Asia
Citi
Latin America
Citi
Nordic Region
SEB
CEE
RZB/Raiffeisen International
Africa
Citi
Middle East
Citi

Best Bank for Payments and Collections

North America
Wells Fargo
Western Europe
Deutsche Bank
Asia:
HSBC
Latin America
Citi
Nordic Region
Nordea
CEE
UniCredit
Africa
Standard Bank
Middle East
HSBC

Best Treasury Management Systems & Services Providers

Accounts Payable Services
Bottomline Technologies
Accounts Receivable Services
SunGard AvantGard Receivables
Electronic Invoice Presentment and Payment Services
Basware
Payroll Services
Citi
Corporate Cards and Expense Services Provider
J.P. Morgan
Electronic Commerce Provider
Fiserv
Loss Prevention/Business Continuity Services Provider
IBM
Pension Plan Administration Services
Mercer
Technology Service Provider
SunGard
Treasury Workstation Provider
SunGard AvantGard
Treasury Management Software
Wall Street Systems
Best Mobile Solution Provider
CfC Stanbic Bank