GLOBAL FINANCE

namesNational Bank of Abu Dhabiand National Bank of Kuwait


theWorld's Safest Banks 2012 in the Middle East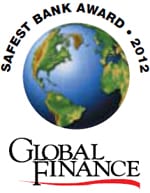 NEW YORK, August 16, 2012



Global Finance


magazine (

GF

mag.com) has namedthe

Safest Banks intheMiddle East

in an exclusive survey to be published in theOctober 2012 issue. Winners were selected through an evaluation of long-term creditratingsfrom Moody's, Standard & Poor's and Fitchand total assets of the 500 largestbanks worldwide.
National Bank of Abu Dhabi and National Bank of Kuwait lead the rankings in the Middle East and Africa, and have the same credit ratings. They are ranked here according to their assets.
Saudi Arabian banks perform very well again this year, taking six of the top elevenpositions.
The full report evaluates the safest banks in Western Europe, Central and Eastern Europe,Asia, the Middle East, North America, Latin America and Australasia.
"More than ever, customers around the world are viewing long-term creditworthiness asthe key feature of the banks with which they do business," says Joseph D. Giarraputo,publisher of

Global Finance

. "These banks have solid capital positions and superior riskmanagement capabilities."
For editorial information please contact: Andrea Fiano, Editor, email:

afiano@gfmag.com

1.


National Bank of Abu Dhabi



(UAE)


7.


Riyad Bank



(Saudi Arabia)


2.


National Bank of Kuwait



(Kuwait)


8.


Abu Dhabi Commercial Bank



(UAE)


3.


Qatar National Bank



(Qatar)


9.


Kuwait Finance House



(Kuwait)


4.


Samba Financial Group



(Saudi Arabia)


10.


Banque Saudi Fransi



(Saudi Arabia)


5.


National Commercial bank



(Saudi Arabia)


11.


SABB



(Saudi Arabia)


6.


Al Rajhi Bank



(Saudi Arabia)


12.


Union National Bank



(UAE)

PR date:

Global Finance

Magazine August 16, 2012 / Ratings current as of July 30, 2012