Global Finance Names the World's Safest Banks 2013 in Western Europe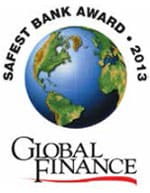 New York, August 26, 2013 – Global Finance magazine has named the Safest Banks in Western Europe in an exclusive survey to be published in the October 2013 issue. Winners were selected through an evaluation of long-term credit ratings—from Moody's, Standard & Poor's and Fitch—and total assets of the 500 largest banks worldwide.
German banks performed strongly at the top of the list this year, taking three of the top five and four of the top eight positions. The Netherlands also performed well, with three banks in the top ten.
The full report evaluates the safest banks in Western Europe, Central and Eastern Europe, Asia, the Middle East, North America, Latin America and Australasia.
"Bank counterparty assessment has become an intrinsic part of the job of a CFO and treasurer," says Global Finance publisher Joseph D. Giarraputo. " Global Finance 's Safest Banks ranking provides an objective tool for benchmarking and analysis of regional banks."
Rank
Group Name
Country
1
KfW
Germany
2
Bank Nederlandse Gemeenten
Netherlands
3
Zürcher Kantonalbank
Switzerland
4
Landwirtschaftliche Rentenbank
Germany
5
L-Bank
Germany
6
Nederlandse Waterschapsbank
Netherlands
7
Caisse des Dépôts et Consignations
France
8
NRW.Bank
Germany
9
Banque et Caisse d'Epargne de l'Etat
Luxembourg
10
Rabobank
Netherlands
Ratings current as of July 30, 2013