Global Finance gathered finance-sector leaders from around the world at Glazier's Hall in London for a ceremony honoring excellence in banking services for the small and mid-sized enterprise segment and in corporate foreign exchange.
The late February event combining recognition for our Best SME Bank Awards and the GW Platt Foreign Exchange Awards drew CEOs, COOs, general managers and division heads in foreign exchange, treasury and international banking as well as other senior representatives. It was the inaugural event recognizing winners of our SME Awards and the first in-person FX ceremony since renaming the program in honor of longtime Global Finance editor Gordon W. Platt.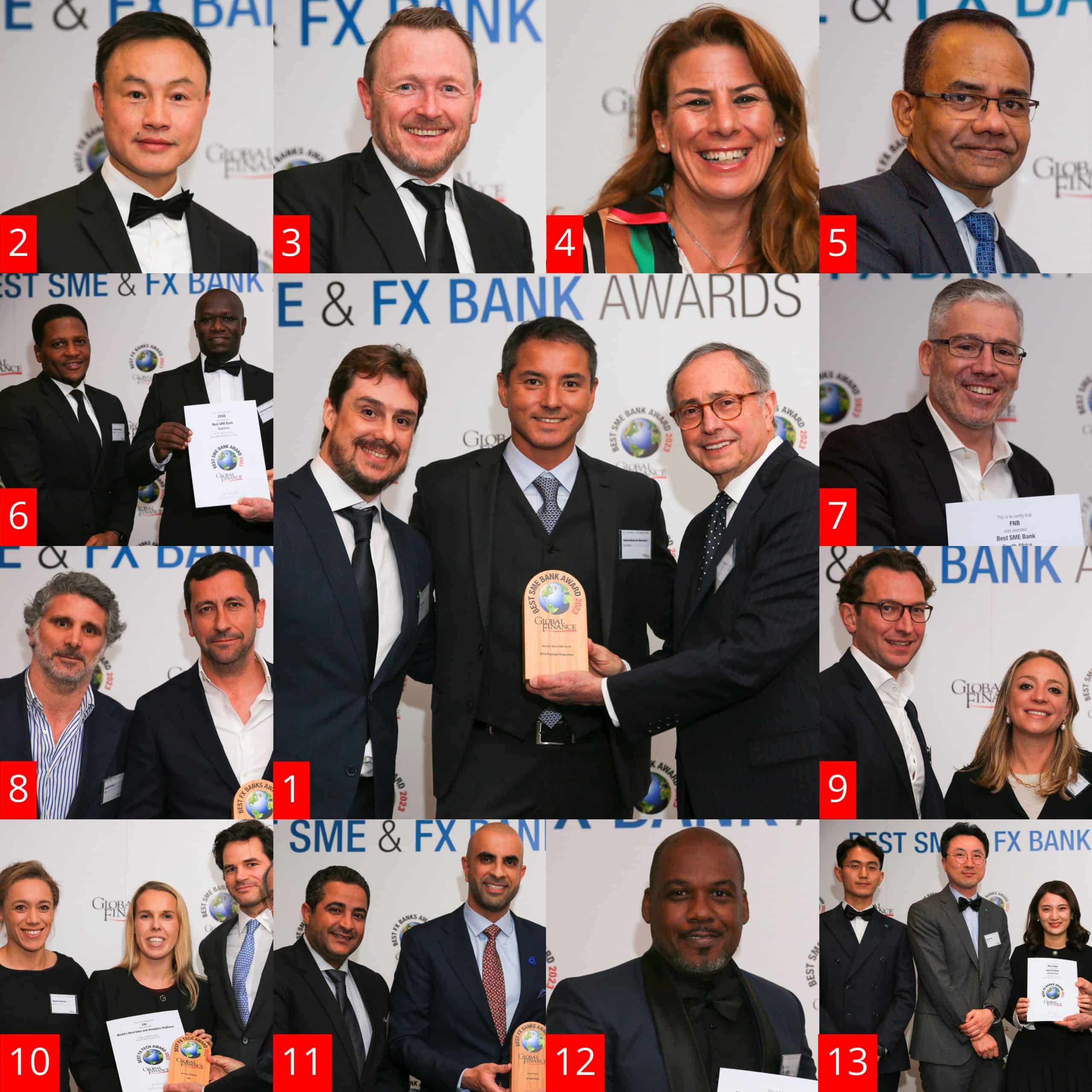 1. BTG Pactual Empresas' Dany Gregory (left) and Gabriel Motomura (middle) accepting the 2023 World's Best SME Bank Award from Global Finance's Joseph Giarraputo (right).
2. Stanley Cheuk of OCBC collecting the Best SME Bank in Asia-Pacific award for 2023.
3. Stewart Carvil of Qatar National Bank receiving the Best SME Bank in the Middle East Award for 2023.
4. Santander's Marta Leitao accepting the Best SME Bank in Western Europe accolade for 2023 .
5. S. Prabagar from Commercial Bank of Ceylon receiving the award for Best SME Bank in Sri Lanka for 2023.
6. CRDB's Toyi Aloyce Ruvumbagu (left) and Bonaventura Paul Kiungo (middle) collecting the Best SME Bank in Tanzania award.
7. Marc Viakovsky from First National Bank accepting the Best SME Bank in South Africa for 2023.
8. BBVA's Ignacio Pesquera (left) and Carlos Escolano (right) receiving the 2023 World's Best Foreign Exchange Bank Award.
9. Antoine Jacquemin (left) and Amanda Goldreich (right), Societe Generale, collecting the 2023 Best FX Bank for Corporates Award.
10. Madeleine Mayfield, Tabitha Smith and Ned Mawby (left to right) of Citi accepting multiple awards including the World's Best Bank Platform for 2023.
11. Al Rajhi Bank's Tarik AlAujan (left) and Abdulrahman Alajaji (middle) receiving the Best Foreign Exchange Provider in Saudi Arabia award for 2023.
12. Peter Higgins of National Commercial Bank Jamaica collecting the Best Foreign Exchange Provider in Jamaica award.
13. Hana Bank's team receiving the 2023 Best Foreign Exchange Provider in South Korea award.