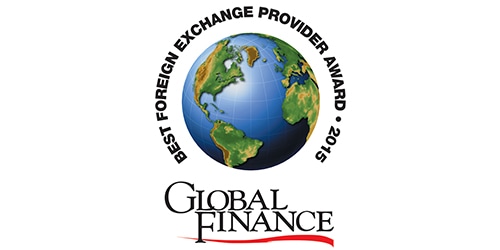 ---
NEW YORK, November 6, 2014 – Global Finance magazine has named the World's Best Foreign Exchange Banks and Providers by country, region and category in an exclusive survey to be published in the January 2015 issue.
Citi was named as the global winner.
With input from a panel of experts and feedback from industry analysts, corporate executives and technology specialists – Global Finance also selected the best currency trading providers in 99 countries and 9 regions. The best online foreign exchange systems were also identified. Criteria for choosing the winners included transaction volume, market share, scope of global coverage, customer service, competitive pricing and innovative technologies.
"Facing a vastly-changed marketplace, FX providers are reinventing themselves to build market share and best meet the needs of their diverse client base. Our award winners provide the technology and services that corporations can rely on to manage their FX exposures in markets worldwide," says Joseph D. Giarraputo, publisher and editorial director of Global Finance.

---
Jump To Section:
Downloadable PDF Version Below
REGIONAL WINNERS

North America

Citi

Western Europe

Deutsche Bank

Nordic Countries

Nordea

Central & Eastern Europe

Societe Generale

Latin America

Citi

Asia-Pacific

ANZ

Southeast Asia

DBS

Africa

Standard Bank

Middle East

National Bank of Kuwait
---
Jump To Section:
Downloadable PDF Version Below
COUNTRY WINNERS

Algeria

Arab Banking Corp Algeria

Angola

Standard Bank Angola

Argentina

Citi

Armenia

Ameriabank

Australia

ANZ

Austria

Bank Austria

Bahrain

Ahli United Bank

Belarus

Belarusbank

Belgium

BNP Paribas Fortis

Botswana

Stanbic Bank Botswana

Brazil

Itaú Unibanco

Bulgaria

UniCredit Bulbank

Canada

Scotiabank

Chile

Banco Santander Chile

China

ICBC

Colombia

Banco de Bogotá

Costa Rica

Citi

Cyprus

Bank of Cyprus

Czech Republic

Komerní banka

Denmark

Danske Bank

Ecuador

Citi

Egypt

Commercial International Bank

El Salvador

Citi

Estonia

SEB Pank

Finland

Nordea

France

BNP Paribas

Gambia

Standard Chartered

Georgia

TBC Bank

Germany

Deutsche Bank

Greece

National Bank of Greece

Guatemala

Banco Industrial

Honduras

Citi

Hong Kong

HSBC

Hungary

OTP Bank

India

DBS

Indonesia

DBS Indonesia

Ireland

Bank of Ireland

Israel

Bank Leumi

Italy

UniCredit

Jamaica

Scotiabank Jamaica

Japan

Sumitomo Mitsui Banking Corp

Jordan

Arab Bank

Kazakhstan

Halyk Bank

Kenya

CfC Stanbic Bank

Kuwait

National Bank of Kuwait

Latvia

SEB

Lebanon

BLOM Bank

Lithuania

SEB

Macedonia

Komercijalna Banka AD Skopje

Malaysia

Maybank

Mexico

BBVA Bancomer

Moldova

Moldova Agroindbank

Netherlands

ING

New Zealand

ANZ

Nigeria

Stanbic IBTC Bank

Norway

SEB

Oman

BankMuscat

Pakistan

Standard Chartered

Paraguay

Banco Itaú Paraguay

Peru

Citi

Philippines

Security Bank

Poland

mBank

Portugal

Banco Santander Totta

Qatar

Qatar National Bank

Romania

BRD

Russia

VTB Capital

Saudi Arabia

SABB

Sierra Leone

Standard Chartered

Singapore

DBS

Slovakia

SOB

Slovenia

Nova Ljubljanska Banka

South Africa

Standard Bank

South Korea

Korea Exchange Bank

Spain

Santander

Sweden

SEB

Switzerland

Credit Suisse

Syria

Bank of Syria and Overseas

Taiwan

CTBC Bank

Thailand

Siam Commercial Bank

Turkey

Akbank

Ukraine

Nadra Bank

UAE

Nationl Bank of Abu Dhabi

United Kingdom

HSBC

United States

Citi

Honorable Mention

BNY Mellon

Uruguay

Citi

Venezuela

Banco Mercantil

Vietnam

Sacombank

Zambia

Stanbic Zambia
---
Jump To Section:
Downloadable PDF Version Below
FOREIGN EXCHANGE RESEARCH & ANALYSIS

Research

BNY Mellon

Fundamental Analysis

Brown Brothers Harriman

Technical Analysis

BNY Mellon

Strategy/ Hedging

Deutsche Bank

Forecasts

BNP Paribas
ONLINE FOREX TRADING SYSTEMS

Bank System

Saxo Bank

Independent

Thomson Reuters

Retail

Oanda
---
Jump To Section:
Downloadable PDF Version Below