Global Finance

Names the Stars of China 2013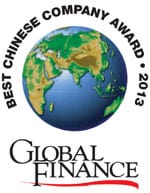 New York, September 26, 2013

–


Global Finance


is proud present the winners of the 2013 Stars of China Awards, honoring the best banks and companies in China.
The two lists below and a full report on the winners will be published in the November issue of Global Finance, with an in-depth look at the success stories behind the winners and their various approaches to business excellence in the unique environment of the Peoples Republic.
"In the past year, a new government has taken office in China, and growth is moderating," said Joseph D. Giarraputo, Publisher and President of Global Finance. "The banks and companies being recognized as the Stars of China 2013 have seized the opportunity inherent in this changing environment and are leading the way for their competitors." The 2013 Stars of China will be honored at a ceremony at the Westin Beijing Financial Street on November 19th, 2013.
| | | |
| --- | --- | --- |
| City Commercial Bank | | Huishang Bank |
| Corporate Bank | Domestic: | ICBC |
| | Foreign: | HSBC |
| Consumer Bank | Domestic: | Shanghai Pudong Development Bank |
| | Foreign: | DBS |
| Consumer Credit Card | Domestic: | Bank of China Consumer Finance |
| | Foreign: | Citi |
| Corporate/Commercial Credit Card | | Bank of China |
| Best Corporate Governance | | China Construction Bank |
| Investment Bank | Domestic: | China International Capital Corp |
| | Foreign: | J.P. Morgan |
| Bond Underwriting | Domestic: | Agricultural Bank of China |
| | Foreign: | UBS |
| Equity Underwriting | Domestic: | Guotai Junan Securities |
| | Foreign: | Citi |
| Foreign Exchange Provider | Domestic: | Bank of China |
| | Foreign: | HSBC |
| Treasury and Cash Management Bank | Domestic: | Bank of China |
| | Foreign: | Standard Chartered |
| Mergers & Acquisitions | Domestic: | China Development Bank |
| | Foreign: | UBS |
| Rural Finance | Domestic: | Chongqing Rural Commercial Bank |
| | Foreign: | Standard Chartered |
| Infrastructure | | Bank of China |
| Supply Chain Finance | Domestic: | ICBC |
| | Foreign: | J.P. Morgan |
| Trade Finance Provider | Domestic: | Bank of China |
| | Foreign: | Standard Chartered |
| Small Business Lending | Domestic: | China Minsheng |
| | Foreign: | DBS |
| Mutual Fund | | SCB WM |
| | |
| --- | --- |
| Automotive | Beijing Automotive |
| Clothing | Li-Ning |
| Construction | Sany |
| Consumer Products | Midea |
| Electronics | TCL |
| Food and Beverage | China Mengniu Dairy Co |
| Insurance | Peoples Insurance Company of China |
| Internet | Tencent |
| Media | China Daily |
| Metals and Mining | Shenhua Energy |
| Oil and Gas | Sinopec |
| Property and Real Estate | Dalian Wanda Group |
| Renewable Energy | Suntech |
| Steel | Baosteel |
| Telecom | China Mobile |