Global Financenames the banks and financial institutions leading the way in sustainable finance in the Middle East.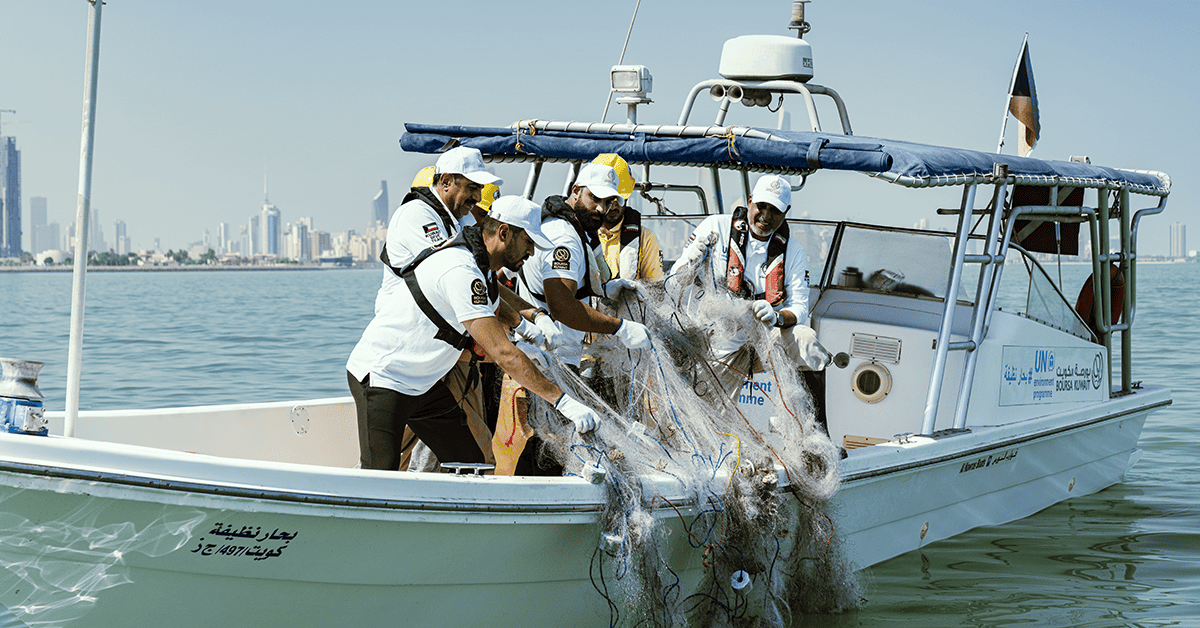 Boursa Kuwait's commitment to ESG means taking a hands-on approach to removing litter from waterways.

The Middle East is still in the early stages of ESG adoption and understanding, but this region is key to global sustainability efforts as its global role in fossil fuel production. Financial institutions within the region are focused on establishing and transforming their governance models so that they can enable Middle Eastern countries to achieve net zero and lesson their carbon footprints. They also have education initiatives and encourage companies to become more transparent by including sustainability metrics in their reporting.

Banks in the Middle East are financing infrastructure projects that include renewable energy plants, sustainable agriculture, and green transportation systems that will reduce pollution and protect natural resources. Along with ensuring buildings are green and lowering emissions, the region's banks have also disbursed sustainability-linked loans with KPIs that encourage diversity. Global Finance recognizes financial institutions supporting the Middle East's transition to a future of green and clean energy through innovative products and services.
Outstanding Leadership in Sustainable Finance
Outstanding Sustainable Financing in Emerging Markets
Outstanding Leadership in Sustainable Bonds
Outstanding Leadership in ESG-Related Loans
Outstanding Leadership in Transition/Sustainability-Linked Loans
First Abu Dhabi Bank (FAB) has as its goal to lend, invest, and facilitate $75 billion through 2030 for environmental and socially responsible solutions. The bank had a landmark year in 2022, strengthening its ESG governance by establishing a Board Risk and ESG Committee. The bank focused on transforming its governance model, transitioning to a low-carbon future, and capitalizing on its social responsibility.
Sustainable Finance Awards 2023
Since issuing the first green bond in the Gulf Cooperation Council region in 2017, FAB has facilitated over $39 billion in projects to date—over $9.1 billion in 2022. These included the first green loan, transition sukuk, SDG loan, and vaccine sukuk in the region.
In its effort to accelerate the net-zero transition, the bank has supported such transactions as a loan for the NEOM green hydrogen project, the first of its kind, which will be the world's largest renewable energy-based ammonia plant, furthering Saudi Arabia's Vision 2030.
The bank has provided financing for the Etihad Rail passenger project, which will connect cities and regions in the United Arab Emirates with a 1,200 km network that will reduce pollution, lower fuel and maintenance costs, increase road safety, and protect national biodiversity.
FAB's $1.25 billion SLL facility to Majid Al Futtaim includes KPIs designed to reduce emissions; reduce the number of shopping malls that don't meet minimum requirements for green building certification; and increase the percentage of women in board, senior executive, and senior management positions.
Outstanding Financial Leadership in Sustaining Communities
Outstanding Leadership in Sustainability Transparency
Boursa Kuwait serves communities in the Middle East with education and financial literacy initiatives essential for economic and social prosperity and development. The exchange drives awareness through workshops and events.
Along with publishing a stand-alone Sustainability Report that demonstrates its commitment to ESG and corporate sustainability, the exchange has also published the ESG Reporting Guide. This guide encourages listed companies to include sustainability metrics in their activities, decision making and reporting, so that investors better understand a company's status and how it can improve and set future goals that are in line with UN SDGs, the Global Reporting Initiative, the "New Kuwait 2035" vision, and the Kuwait National Development Plan.
Outstanding Leadership in Sustainable Project Finance
Outstanding Leadership in Green Bonds
QNB Group issued its first green bond in 2020 and since has continued with several innovative debt capital market and loan capital transactions.
In 2022, QNB Group launched the first green repurchase agreement transactions in Qatar. Under this structure, HSBC can borrow from QNB in exchange for ownership of green bonds. HSBC can then allocate an amount equal to the purchase price to eligible businesses and projects that promote a low-carbon, climate resilient, and sustainable economy, providing clear environmental sustainability benefits that focus on transportation.
For the second green repo, Credit Agricole can similarly borrow cash and will then allocate the net proceeds to renewable energy, green buildings, energy efficiency, clean transportation, waste and water management, sustainable agriculture, and forest management.
SUSTAINABLE FINANCE AWARDS 2023
Middle East Regional Winners

Outstanding Leadership in Sustainable Finance

First Abu Dhabi Bank

Outstanding Financial Leadership in Sustaining Communities

Boursa Kuwait

Outstanding Leadership in Sustainability Transparency

Boursa Kuwait

Outstanding Leadership in Sustainable Project Finance

QNB Group

Outstanding Sustainable Financing in Emerging Markets

First Abu Dhabi Bank

Outstanding Leadership in Green Bonds

QNB Group

Outstanding Leadership in Sustainable Bonds

First Abu Dhabi Bank

Outstanding Sustainable Financing in ESG-Related Loans

First Abu Dhabi Bank

Outstanding Leadership in Transition/Sustainability-Linked Loans

First Abu Dhabi Bank

Middle East Country Winners

Bahrain

National Bank of Bahrain

Jordan

Jordan Kuwait Bank

Kuwait

Kuwait Finance House

Qatar

QNB Group

Saudi Arabia

Standard Chartered

U.A.E.

First Abu Dhabi Bank