Global Financenames the banks and financial institutions leading the way in sustainable finance in North America.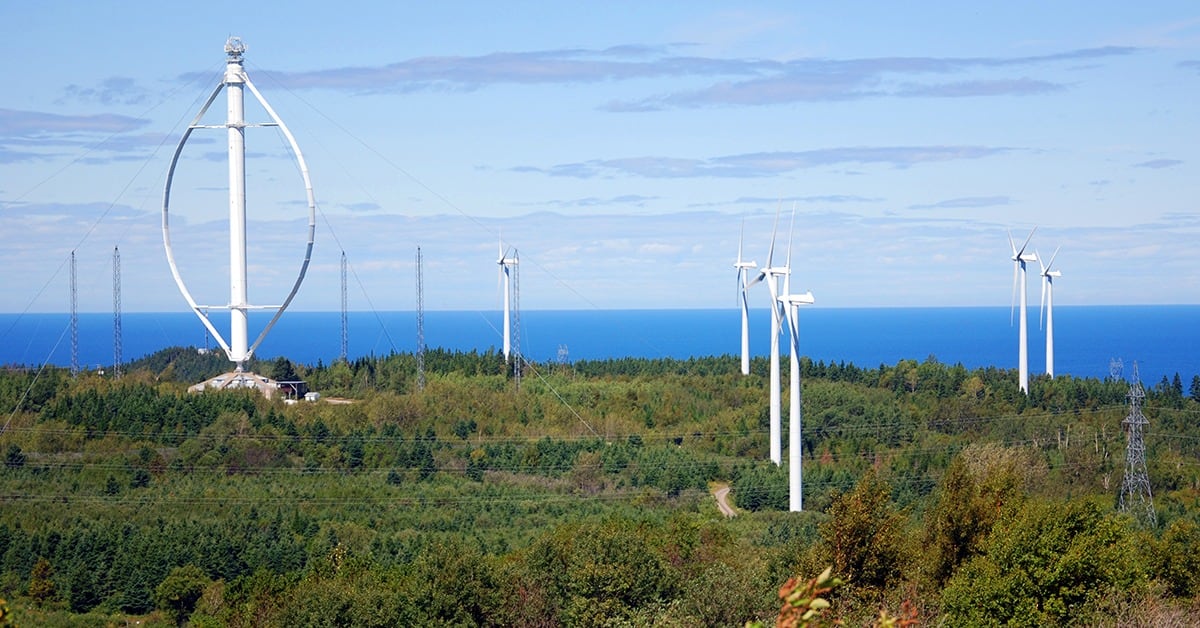 Wind power in Quebec, Canada.

2022 was a tough year on the sustainable finance front for North America. Green, social, sustainable, and sustainability-linked bond (GSSSB) issuance plummeted 22% and North America was overtaken by Asia-Pacific as the world's second leading GSSSB region behind Europe.

Better days are anticipated for 2023, however, thanks to the United States' Inflation Reduction Act (IRA). Signed into law in August 2022, the IRA will provide some $386 billion in energy and climate spending over the next 10 years. Nonfinancial corporate issuers of GSSSB bonds in particular are likely to take advantage of IRA tax credits. Demand for GSSSB bonds is also expected to be strong in North American municipal markets in 2023. Expect to see more groundbreaking work in sustainable finance from these leading institutions.
Outstanding Leadership in Sustainable Finance
Outstanding Financial Leadership in Sustaining Communities
Outstanding Leadership in Sustainable Project Finance
Outstanding Leadership in ESG-Related Loans
Bank of America (BofA) was the global leader in ESG-themed bonds and loans in 2022, with $73.6 billion in apportioned volume and 5.6% market share, according to Dealogic. The bank has been an innovator too, pioneering Equality Progress Sustainability Bonds (EPSB), designed to advance racial and gender equality, economic opportunity, and environmental sustainability. In 2022, Georgia Power became the first-ever corporate borrower to issue an EPSB with its $800 million issuance. Half of net proceeds raised are earmarked to benefit minority- or female-owned suppliers. BofA Securities served as Georgia Power's sustainability structuring agent.
Sustainable Finance Awards 2023
BofA engaged in sustainable project finance both within and well beyond its native US. In November, BofA and CrossBoundary Energy (CBE), an investment company focused on renewable energy, announced their intention to scale CBE's renewable energy solutions for commercial and industrial businesses across Africa. The collaboration aims to deliver some 255 MW of new solar- and wind-generation projects and 50 MWh of storage projects.
Supporting sustainable US communities has long been a focus of BofA, especially in the area of affordable housing. In 2022, it provided a record $7.85 billion in loans, tax credit equity investments, and other real estate development solutions to finance low-cost housing and economic development. It also originated more than $263 million in loans and investments to community development financial institutions that finance affordable housing, economic development, SMEs, health care centers, charter schools, and other community services.
BofA boosted ESG lending to energy firms in the developing world transitioning to a more sustainable future. In November, Consorcio Energetico Punta Cana Macao (CEPM), one of the Dominican Republic's largest electricity providers, secured a green A/B loan from BofA and a multilateral development bank to support its renewable energy and clean transportation infrastructure projects. BofA also acted as sole structuring agent. BofA is partnering with CEPM's parent, InterEnergy, to support other renewable energy and clean transportation projects in the small island developing states.
Outstanding Leadership in Sustainability Transparency
Outstanding Leadership in Sustainable Bonds
Outstanding Leadership in Transition/Sustainability-Linked Bonds
Sustainability bonds combine aspects of both green and social bonds. Canada's Scotiabank acted as joint bookrunner in 2022 for Georgia Power's $800 million 30-year sustainability bond to fund renewable energy projects and programs that enable opportunities for diverse and small businesses and suppliers. The bank was also a sustainability structuring agent and joint bookrunner for the State of Mexico's 2.9 billion peso (about $169 million) 15-year inaugural sustainability bond.
Scotiabank also excels in SLBs, which require issuers to meet certain KPIs or pay a financial penalty. The bank played a top tier role on a number of these offerings in 2022, including joint bookrunner for TELUS' $750 million SLB, which ties its coupon rate to reducing absolute scope 1 and 2 greenhouse gas emissions by 46% from 2019 levels by 2030, the first offering of its kind in Canada.
As noted above (see global winners), Scotiabank has committed to open, clear, and detailed sustainability reporting; and its regular ESG reports aren't limited to environmental targets. The bank also tracks social and governance progress. Scotia aims to mobilize $10 billion by 2025 to increase economic and professional opportunities for women-led businesses in Canada, for example. By year-end 2022, it had spent $5.6 billion through the Scotiabank Women Initiative ("56% of target"), according to its ESG report.
Outstanding Leadership in Sustainable Infrastructure Finance
In addition to its landmark Champlain Hudson Power Express project (see global winners), CIBC's infrastructure projects in 2022 included a partnership to expand clean energy projects in the Canadian city of Markham. Financing will enable the municipality to serve new customers in the town's growing urban centers while pursuing net-zero emissions. CIBC's 100-strong core global energy, infrastructure and transition investment banking team was expanded in 2022 with the addition of four directors in the US.
Outstanding Sustainable Financing in Emerging Markets
Outstanding Leadership in Sustainable Finance by a Multilateral Institution
Outstanding Leadership in Social Bonds
Plastic waste in the oceans, an annoyance in the developed world, can disrupt entire communities and economies in emerging markets. IFC (International Finance Corporation) stood front and center in 2022 in efforts to develop a global blue economy finance market, having provided more than $700 million since 2020 in loans and bonds to private sector banks and corporates looking, for example, to reduce marine plastic pollution off Africa and Asia through recycling. This also included support for Thailand's first blue bond as well as $100 million for the first green bond issued by a commercial bank in the Philippines.
IFC also pioneered gender bonds, a type of social bond that specifically supports women-led or women-founded businesses. In April 2022, the multilateral bank invested in sub-Saharan Africa's first gender bond, listed by Tanzania's NMB Bank. Proceeds will finance more than 2,000 women-owned SMEs in Tanzania, where an estimated 75% of women-owned businesses lack access to necessary financing.
As a multilateral institution, IFC has a different mandate than private sector banks. Its mission can include building new markets. IFC did this with social bonds in Asia in 2022, providing the $100 million anchor investment for China-based Haier Leasing's social bond, with 5% of the proceeds to support women-led enterprises. This was the first ICMA-compliant social bond by a Chinese private sector issuer. Other private sector players followed IFC's lead, including Asian Infrastructure Investment Bank and Sumitomo Mitsui Banking Corporation.
Outstanding Leadership in Green Bonds
Outstanding Leadership in Transition/Sustainability-Linked Loans
Like many bookrunners, Citi's green bond volumes fell off some in 2022; but the bank maintained its 4.1% global green bond share with 95 issues and $16.1 billion in proceeds, according to Refinitiv. Dealogic ranked it sixth globally in green bonds; and the bank participated in some of the year's largest issuances, including as active bookrunner for General Motors' $2.25 billion inaugural green bond, which will support the automaker's transition to EVs. GM plans to be manufacturing 1 million EVs annually in North America by 2025.
Transition/sustainability-linked loans have soared in recent years, and Citi has been part of the push. The $25.1 billion in 2022 SLL volume cited in Citi's latest ESG report was a small retreat from the previous year, but still many times higher than 2020's $4.6 billion total. The year's activities included a $125 million sustainability-linked revolving credit facility for Nigeria, Kenya, Gabon, and the Democratic Republic of Congo to expand digital inclusion and infrastructure in rural areas.
SUSTAINABLE FINANCE AWARDS 2023
North America Regional Winners

Outstanding Leadership in Sustainable Finance

Bank of America

Outstanding Financial Leadership in Sustaining Communities

Bank of America

Outstanding Leadership in Sustainability Transparency

Scotiabank

Outstanding Leadership in Sustainable Infrastructure Finance

CIBC

Outstanding Leadership in Sustainable Project Finance

Bank of America

Outstanding Sustainable Financing in Emerging Markets

IFC

Outstanding Leadership in Sustainable Finance by a Multilateral Institution

IFC

Outstanding Leadership in Green Bonds

Citi

Outstanding Leadership in Social Bonds

IFC

Outstanding Leadership in Sustainable Bonds

Scotiabank

Outstanding Leadership in Transition/Sustainability-Linked Bonds

Scotiabank

Outstanding Leadership in ESG-Related Loans

Bank of America

Outstanding Leadership in Transition/Sustainability-Linked Loans

Citi

North America Country Winners

Canada

Scotiabank

United States

Citi