Global Finance

Names the World's 50 Safest Banks in Emerging Markets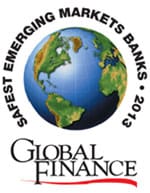 New York, November 5, 2013

– As developing nations struggle with a slow-down in once booming economies, the financial institutions in those countries are facing a moment of truth. With their local economies suddenly contracting, only the strongest banks will thrive. And because of that, potential corporate customers will be extremely careful in choosing the banks they do business with. In short, its safety first.
Its against this backdrop that

Global Finance

announces its third annual ranking of the Safest Banks in Emerging Markets. For the ranking,

Global Finance

used the same criteria as is applied to the Annual World's Safest Banks ranking, which appeared in the October issuea recognized and trusted standard of creditworthiness for the financial world, now in its 22nd year.
We evaluate the ratings and total assets of the main players in developing economies to create the rankingsproviding an overview of the key banks in each region and which financial institutions offer the greatest security. Winners were selected through an evaluation of long-term credit ratingsfrom Moodys, Standard & Poors and Fitch Ratingsand total assets of the 500 largest banks in emerging markets.
The National Bank of Abu Dhabi takes the top spot for 2013, reflecting a recent upgrade by S&P. Banks from the Gulf and the Middle East dominate the list this year, with 22 out of the top 50 ranked banks. Korea, with 10 banks, and China, with 8, are the other large groups on the list, followed by Taiwan and Chile with 4 each and 2 from Czech Republic.
In addition there are a number of institutions making the list for the first time this year: Export-Import Bank of China, Export-Import Bank of Korea, Korea Development Bank, HSBC Oman (HSBC merged its Muscat Branch with Oman International Bank and renamed the bank earlier this year, resulting in a big upgrade) – and Bank of Communications, which was upgraded by Fitch earlier this year.
For companies looking to expand into new markets, choosing the right banking partner is critical, says

Global Finance

publisher Joseph D. Giarraputo. This ranking is an invaluable tool for companies to evaluate institutional strength in fast-growing emerging markets.
This exclusive ranking will be published in the December issue of

Global Finance

.
| | | |
| --- | --- | --- |
| Rank | Group Name | Country |
| 1 | National Bank Of Abu Dhabi | United Arab Emirates |
| 2 | China Development Bank | China |
| 3 | Agricultural Development Bank of China | China |
| 4 | Export-Import Bank of China | China |
| 5 | Industrial Bank of Korea | South Korea |
| 6 | Korea Finance Corporation | South Korea |
| 7 | National Bank of Kuwait | Kuwait |
| 8 | Export-Import Bank of Korea | South Korea |
| 9 | BancoEstado | Chile |
| 10 | Korea Development Bank | South Korea |
| 11 | Qatar National Bank | Qatar |
| 12 | Samba Financial Group | Saudi Arabia |
| 13 | Bank of Taiwan | Taiwan |
| 14 | Banco de Chile | Chile |
| 15 | National Commercial Bank | Saudi Arabia |
| 16 | Al Rajhi Bank | Saudi Arabia |
| 17 | Banco Santander Chile | Chile |
| 18 | Riyad Bank | Saudi Arabia |
| 19 | Abu Dhabi Commercial Bank | United Arab Emirates |
| 20 | Banque Saudi Fransi | Saudi Arabia |
| 21 | SABB | Saudi Arabia |
| 22 | Union National Bank | United Arab Emirates |
| 23 | Industrial and Commercial Bank of China | China |
| 24 | China Construction Bank | China |
| 25 | Agricultural Bank of China | China |
| 26 | Bank of China | China |
| 27 | KB Kookmin Bank | South Korea |
| 28 | Shinhan Bank | South Korea |
| 29 | NongHyup Bank | South Korea |
| 30 | Kuwait Finance House | Kuwait |
| 31 | Arab National Bank | Saudi Arabia |
| 32 | Hana Bank | South Korea |
| 33 | Land Bank of Taiwan | Taiwan |
| 34 | First Gulf Bank | United Arab Emirates |
| 35 | Abu Dhabi Islamic Bank | United Arab Emirates |
| 36 | Mega International Commercial Bank | Taiwan |
| 37 | CTBC Bank | Taiwan |
| 38 | esk spoitelna | Czech Republic |
| 39 | Banco de Credito e Inversiones | Chile |
| 40 | Commercial Bank of Qatar | Qatar |
| 41 | Woori Bank | South Korea |
| 42 | Korea Exchange Bank | South Korea |
| 43 | Komern banka | Czech Republic |
| 44 | Bank Muscat | Oman |
| 45 | Saudi Hollandi Bank | Saudi Arabia |
| 46 | Doha Bank | Qatar |
| 47 | Commercial Bank of Kuwait | Kuwait |
| 48 | HSBC Bank Oman | Oman |
| 49 | Bank of Communications | China |
| 50 | Saudi Investment Bank | Saudi Arabia |