Global Finance

Names the World's Best Internet Banks 2013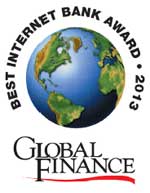 NEW YORK, November 5, 2013

On November 5th

Global Finance

(GFMag.com) presented The World's Best Internet Bank Awards at its annual gala awards dinner at The Harvard Club in New York City. A full report will appear in the December 2013 issue of Global Finance. Round 1 winners previously appeared in the September 2013 issue.
The overall winners for Regional and Global Coprporate/Institutional Internet Banks as well as Regional and Global Consumer Internet Banks were announced. Also announced were the overall global sub-category winners. The grand prize of Best Overall Global Internet Bank was presented to Citi.

Global Finance

s World Best Internet Bank Awards are based on submissions from banks that wish to be considered. This year, 250 individual banks from around the world entered the competition. Representatives from Infosys, a global leader in consulting, technology and outsourcing solutions, comprised the judging panel. Based on the judges evaluations,

Global Finance

s editors made the final selections.
Winners were selected based on strength of strategy for attracting and servicing online customers, success in getting clients to use web offerings, growth of online customer base, breadth of products offered, evidence of tangible benefits gained from Internet inititatives, and web site design and functionality. Sub-category winners were selected on the basis of relative strength products and services.
| | |
| --- | --- |
| Best Overall Internet Bank Global | Citi |
| Best Corporate/Institutional Internet Bank Global | Citi |
| Best Consumer Internet Bank – Global | Standard Chartered |
| | |
| --- | --- |
| North America | Citi |
| Western Europe | Citi |
| Asia/Pacific | Citi |
| Latin America | Citi |
| Central and Eastern Europe | Citi |
| Middle East/Africa | Citi |
| | |
| --- | --- |
| North America | Scotiabank |
| Western Europe | Garanti Bank |
| Asia/Pacific | Citi |
| Latin America | Scotiabank |
| Central and Eastern Europe | Tatra Banka |
| Middle East/Africa | Standard Chartered |
| | |
| --- | --- |
| Best Investment Management Services | Citi |
| Best Online Cash Management Site | Citi |
| Best Trade Finance Services | Wells Fargo |
| Best Web Site Design | Citi |
| Best Integrated Corporate Bank Site | ICBC |
| Best Information Security Initiatives | Citi |
| Best in Mobile Banking | Citi |
| Best In Social Media | Citi |
| Best Online Treasury Services | BRE Bank |
| | |
| --- | --- |
| Best Online Deposit, Credit and Investment Product Offerings | HSBC |
| Best Bill Payment & Presentment | TBC Bank |
| Best Web Site Design | Tatra Banka |
| Best Integrated Consumer Bank Site | TBC Bank |
| Best Information Security Initiatives | Standard Chartered |
| Best In Mobile Banking | Tatra Banka |
| Best in Social Media | Standard Chartered |