Trade and supply chain finance'smost notable innovators sharetheir successes and secrets.
The Phoenicians, who inhabited theeastern Mediterranean region from3,500 to 2,300 years ago, were thegreatest traders of their time, exchanginggold, wine, textiles, glass and metalswith Greece, Egypt and even the British Isles.To facilitate long-distance shipping, though, theyneeded to invent trade finance.
Today, buyers and suppliers all over the worldrely on trade finance to transact with one another.And, like their Phoenician forebears, today'strade-finance providers continue to innovate.Recently, the great and the good from theworld of trade and supply-chain finance pausedto reflect upon their continuous advancementsat Global Finance's annual World's Best Tradeand Supply Chain Finance Providers awards, which were heldJanuary 17 at the London Hilton on Park Lane.
The ceremony closed out the Bankers Association forFinance and Trade (BAFT) GlobalAnnual Meeting, an opportunity fortrade bankers from all over the worldto network, collaborate and share bestpractices.
Debate over the issues raised duringthe conference didn't end oncethe awards got underway. Over a buffetlunch of confit duck and salmon,capped by daintily presented desserts,conversations about the state of thetrade-finance business, commodityprices and such innovations as blockchainheld sway.
"A lot of banks are into blockchain,"said Lakshmy Gourishankaran(known as Lakshmy G), deputy general manager for GlobalTrade Services at State Bank of India, adding that the bankis waiting to see the improvements blockchain brings to thebusiness. "It's an excitingtime for trade."
Some came seekinginsight. "I don't fullyunderstand blockchain,"said Huabin Wang, chiefcorporate banking officerfrom Bank of China'sLondon branch. "I hopeto learn more about it."London-based NunoVeigas, structuring andproducts vice presidentat Brazilian bank ItaúBBA, leafed through theawards ceremony bookletto find his bank's nameamong the winners—BestTrade Finance Provider inBrazil. "It's really important—recognition by themarket," said Veigas. Anaward "is like a credentialfor us to use when we arepitching clients."
Although country winners were announced in advance,anticipation hung in the air as global trade and supply chainfinance category winners were announced at the ceremony.
BNP Paribas's Marguerite Burghardt, head of the French bank'sTrade Filière Competence Center Europe, was ecstatic to learnher bank had been named Best Bank for Trade Finance globallyfor the second year running, as well as Best Trade FinanceProvider in Luxembourgand Best Pre-ShipmentFinancing Solution. Shedescribed these awardsas "an important incentivefor people to furtherdevelop their performancein the future."
In the spiritof innovation of herPhoenician antecedents,she added that the bankhoped to aid civil societyand humanity by workingto develop the greeneconomy and sustainablefinance.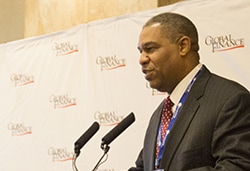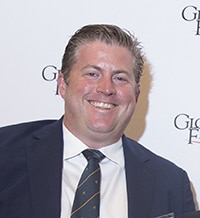 Some bankers traveled from far-flung corners of the globejust to collect their award."We strive for excellence in what we do," said MinosGerakaris, head of trade finance at Rand Merchant Bank inSouth Africa, which picked up the award for the Best SupplyChain Finance Provider in the African region.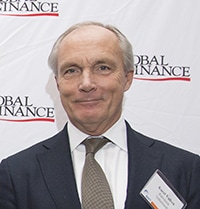 Closer to home, London-headquartered Standard Charteredwon the global Best Supply Chain Finance Provider (Bank) prize."Trade is going to be a fundamental part of banking transformationand innovation," said Francesco Miccoli, StandardChartered's head of transaction banking for Europe. "At eventslike this, we talk aboutpartnering [with otherbanks] to provide bettersolutions to clients.Some are more open topartnerships than others."
Against a backdrop oflow commodity prices,some banks have exitedor stepped back fromcommodity finance.But Netherlands-basedRabobank's commitmentto the business earned itselection as Best Bank forCommodity Finance inthe global category."We're not engineers and we don't have any meaningfulindustry, but trade is close to the heart of the Dutch people,"said Karel Valken, global head of agricultural commodities atthe Dutch bank.
For more on the World's Best Trade Finance Providers, click here.
For more on the World's Best Supply Chain Finance Providers, click here.