ANNUAL SURVEY — THE PIONEERS
By Adam Rombel
In the first of a two-part series, Global Finance identifies the top online corporate and consumer banks by country and regionally by product or service category.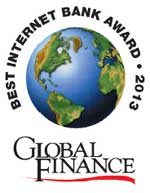 Global Finance is for the 14th year spotlighting those banks around the world that are leading the way and prospering with their online-banking products and services.
Round one of the World's Best Internet Banks Awards features the best online corporate and consumer banks by country and regionally by product or service category.
Winners were selected among entries evaluated by a world-class panel of judges at consultancy Infosys that was led by Shashidhar Ramakrishnaiah, head of its consumer and commercial banking practice. Global Finance editors were responsible for the final selection of first-round winners.
The Internet-banking stalwarts (in alphabetical order) include, Citi, HSBC, ICBC, Piraeus Bank (winbank), Samba, Scotiabank, Standard Chartered and Wells Fargo.
These banks and other winners are offering digital technologies to allow customers to access their money and complete banking transactions safely from anywhere and at any time. The top Internet banks in the world are leading the way in electronic payments, mobile banking, social media, website design, information security initiatives, cash-management services and investment products and services.
As a result, they also blaze the trail in signing up new digital customers in growing markets, strengthening existing customer relationships, cross-selling products and services, producing cost efficiencies and gaining a competitive edge overall.
It isn't easy for banks to produce these business results in the face of regulatory scrutiny, information-security challenges, strong competitive pressures from other banks and nonbanks and the unending changes in technology and customer demands.
That sort of success requires continuous investment, improvement and change.
Key ways banks are differentiating themselves from competitors include the client-centric design of Web-banking services, multichannel offerings and highly personalized portals that try to meet all the needs of the customers, according to Ramakrishnaiah.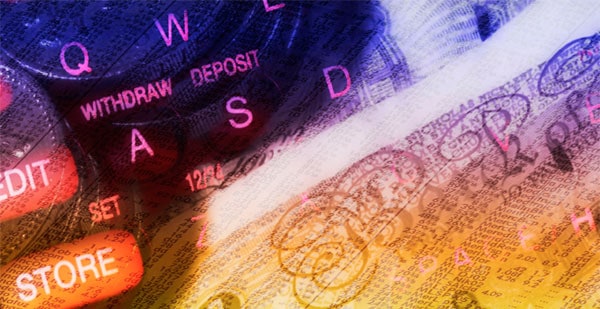 On the consumer side, bill pay, online account opening based on product composition, online origination for mortgage and other lending products, video-based training pro­grams, self-service applications, digital signatures, electronic documentation and personal financial management (PFM) are among key product offerings. PFM in particular has become important, as digital consumers seek financial planning, spending management and budgeting help. "Banks are giving them a tool to manage their finances on an ongoing basis," Ramakrishnaiah says.
Banks are using digital channels for "Client 360," which leverages powerful analytics to give the bank a complete, holistic view of the client and allow the banks to know what products/services the customer wants and needs and offer them at the appropriate time, as well as use data to detect identity thieves and protect customer accounts, according to Infosys. This allows banks to better cross-sell/up-sell, stop customer attrition, improve customer service, direct clients to the right channel and reduce servicing costs, according to Ramakrishnaiah. "All offerings are built around customer needs," he says.
On the corporate side, banks are evolving their treasury portals to keep pace "with the evolving role of trea­sury as a strategic function to ensure optimal working capital management," Ramakrishnaiah says. "Leading treasury portals are integrating cash, trade and liquidity functions, offering eBAM (electronic bank account management) and providing powerful tools for cash flow forecasting. Financial supply chain integration enabled by advanced SWIFT integration is generating significant revenue opportunities for the banks" On the corporate as on the consumer side, multichannel and social-media integra­tion are important.
In fact, incorporating social media into online banking is the top trend among leading Internet banks in 2013. Social media "is being used for customer engagement, customer service, marketing, employee engagement and recruitment," Ramakrishnaiah says.
For more about the globe's leading online banks, check out the second round of the World's Best Internet Banks Awards in December, when we unveil the global winners, by product or service category, as well as overall winners.
| | |
| --- | --- |
| Canada | Citi |
| United States | Citi |
| | |
| --- | --- |
| Austria | Citi |
| Belgium | Citi |
| Finland | Citi |
| France | Citi |
| Germany | Citi |
| Greece | Eurobank |
| Ireland | Citi |
| Italy | Citi |
| Luxembourg | Citi |
| Malta | Bank of Valletta |
| Netherlands | Citi |
| Norway | Citi |
| Portugal | Banco Espirito Santo (BES) |
| Spain | Citi |
| Sweden | Citi |
| Switzerland | Citi |
| Turkey | HSBC |
| United Kingdom | Citi |
| | |
| --- | --- |
| Bulgaria | Citi |
| Croatia | Privredna Banka Zagreb |
| Czech Republic | Citi |
| Georgia | TBC Bank |
| Hungary | Citi |
| Latvia | SEB Banka |
| Poland | Citi |
| Romania | Citi |
| Russia | Citi |
| Slovakia | Citi |
| Ukraine | Citi |
| | |
| --- | --- |
| Anguilla | Scotiabank |
| Antigua & Barbuda | Scotiabank |
| Argentina | Citi |
| Bahamas | Citi |
| Barbados | Scotiabank |
| Belize | Scotiabank |
| Bolivia | Banco de Credito BCP |
| Brazil | Citi |
| British Virgin Islands | Scotiabank |
| Cayman Islands | Scotiabank |
| Chile | Corpbanca Chile |
| Colombia | Citi |
| Costa Rica | Citi |
| Dominica | Scotiabank |
| Dominican Republic | Citi |
| Ecuador | Citi |
| Grenada | Scotiabank |
| Guatemala | Citi |
| Guyana | Scotiabank |
| Haiti | Scotiabank |
| Honduras | Citi |
| Jamaica | Citi |
| Mexico | Banamex |
| Panama | Citi |
| Paraguay | Citi |
| Peru | Citi |
| Puerto Rico | Scotiabank |
| St. Kitts & Nevis | Scotiabank |
| St. Lucia | Scotiabank |
| St. Maarten | Scotiabank |
| St. Vincent & the Grenadines | Scotiabank |
| Trindidad & Tobago | Citi |
| Turks & Caicos | Scotiabank |
| Uruguay | Citi |
| US Virgin Islands | Scotiabank |
| Venezuela | Citi |
| | |
| --- | --- |
| Australia | Citi |
| Bangladesh | Citi |
| China | ICBC |
| Hong Kong | Citi |
| India | Citi |
| Indonesia | Citi |
| Kazakhstan | Citi |
| Malaysia | Maybank |
| New Zeland | Citi |
| Pakistan | Citi |
| Philippines | Citi |
| Singapore | DBS |
| South Korea | Citi |
| Sri Lanka | Citi |
| Taiwan | Citi |
| Thailand | Citi |
| Vietnam | Citi |
| | |
| --- | --- |
| Algeria | Citi |
| Bahrain | Citi |
| Cameroon | Citi |
| Cote D'Ivoire | Citi |
| Democratic Republic of Congo | Citi |
| Egypt | Citi |
| Gabon | Citi |
| Jordan | Citi |
| Kenya | Citi |
| Kuwait | Citi |
| Lebanon | Citi |
| Morocco | Citi |
| Mozambique | Bank Unico |
| Nigeria | Citi |
| Oman | Bank Muscat |
| Qatar | Arab Bank |
| Saudi Arabia | Samba |
| Senegal | Citi |
| South Africa | Citi |
| Tanzania | Citi |
| Tunisia | Citi |
| United Arab Emirates | Citi |
| Uganda | Citi |
| Zambia | Citi |
| | |
| --- | --- |
| Bermuda | HSBC |
| Canada | Scotiabank |
| United States | Wells Fargo |
| | |
| --- | --- |
| Cyprus | Piraeus Bank |
| Greece | Piraeus Bank (Winbank) |
| Italy | FinecoBank |
| Jersey | Standard Chartered |
| Malta | Bank of Valletta |
| Portugal | Millennium BCP |
| Spain | CaixaBank |
| Turkey | Garanti Bank |
| | |
| --- | --- |
| Bulgaria | DSK Bank |
| Croatia | Privredna Banka Zagreb |
| Czech Republic | Citi |
| Georgia | TBC Bank |
| Hungary | Citi |
| Latvia | SEB Banka |
| Poland | Bank Millennium |
| Romania | Garanti Bank |
| Russia | OJSC – Promsvyazbank |
| Slovakia | Tatra Bank |
| | |
| --- | --- |
| Anguilla | Scotiabank |
| Antigua & Barbuda | Scotiabank |
| Argentina | Santander Rio |
| Bahamas | Scotiabank |
| Barbados | Scotiabank |
| Belize | Scotiabank |
| Bolivia | Banco de Credito BCP |
| Brazil | HSBC |
| British Virgin Islands | Scotiabank |
| Cayman Islands | Scotiabank |
| Chile | Banco Santander |
| Colombia | Citi |
| Costa Rica | Scotiabank |
| Dominica | Scotiabank |
| Dominican Republic | Scotiabank |
| Grenada | Scotiabank |
| Guyana | Scotiabank |
| Jamaica | Scotiabank |
| Mexico | Banamex |
| Panama | Scotiabank |
| Paraguay | Itau Unibanco |
| Puerto Rico | Banco Popular Puerto Rico |
| St. Kitts & Nevis | Scotiabank |
| St. Lucia | Scotiabank |
| St. Maarten | Scotiabank |
| St. Vincent & the Grenadines | Scotiabank |
| Trindidad & Tobago | Scotiabank |
| Turks and Caicos | Scotiabank |
| US Virgin Islands | Scotiabank |
| Venezuela | BBVA Banco Provincial |
| | |
| --- | --- |
| Australia | Citi |
| Bangladesh | Standard Chartered |
| Brunei | Standard Chartered |
| China | Citi |
| Guam | Citi |
| Hong Kong | HSBC |
| India | Citi |
| Indonesia | Citi |
| Japan | Rakuten Bank |
| Malaysia | CIMB Group |
| Mongolia | Golomt Bank |
| Pakistan | Standard Chartered |
| Philippines | Citi |
| Singapore | Standard Chartered |
| South Korea | Standard Chartered |
| Sri Lanka | HSBC |
| Taiwan | ANZ Banking Group |
| Thailand | Citi |
| Vietnam | Standard Chartered |
| | |
| --- | --- |
| Bahrain | Citi |
| Egypt | Citi |
| Ghana | Standard Chartered |
| Israel | Bank Leumi |
| Jordan | Arab Bank |
| Kenya | Standard Chartered |
| Lebanon | Blom Bank |
| Mozambique | Banco Unico |
| Qatar | Mashreq Bank |
| Saudi Arabia | Samba Financial Group |
| United Arab Emirates | Standard Chartered |
| Zambia | Standard Chartered |
| | |
| --- | --- |
| Best Investment Management Services | Wells Fargo |
| Best Online Cash Management | Citi |
| Best Trade Finance Services | Wells Fargo |
| Best Web Site Design | Citi |
| Best Integrated Corporate Bank Site | Wells Fargo |
| Best Information Security Initiatives | Citi |
| Best in Mobile Banking | Wells Fargo |
| Best in Social Media | Citi |
| Best Online Treasury Services | Wells Fargo |
| | |
| --- | --- |
| Best Investment Management Services | Citi |
| Best Online Cash Management | Citi |
| Best Trade Finance Services | Yapi Kredi Bank |
| Best Web Site Design | Citi |
| Best Integrated Corporate Bank Site | Citi |
| Best Information Security Initiatives | Citi |
| Best in Mobile Banking | Banco Espirito Santo |
| Best in Social Media | Turkish Economy Bank (TEB) |
| Best Online Treasury Services | Garanti Bank |
| | |
| --- | --- |
| Best Investment Management Services | Citi |
| Best Online Cash Management | Citi |
| Best Trade Finance Services | Citi |
| Best Web Site Design | Citi |
| Best Integrated Corporate Bank Site | TBC Bank |
| Best Information Security Initiatives | Citi |
| Best in Mobile Banking | Bank Millennium |
| Best in Social Media | Citi |
| Best Online Treasury Services | BRE Bank |
| | |
| --- | --- |
| Best Investment Management Services | Citi |
| Best Online Cash Management | Scotiabank |
| Best Trade Finance Services | Citi |
| Best Web Site Design | Citi |
| Best Integrated Corporate Bank Site | Bancolombia |
| Best Information Security Initiatives | Citi |
| Best in Mobile Banking | Citi |
| Best in Social Media | Citi |
| Best Online Treasury Services | Banamex |
| | |
| --- | --- |
| Best Investment Management Services | Citi |
| Best Online Cash Management | DBS |
| Best Trade Finance Services | DBS |
| Best Web Site Design | Citi |
| Best Integrated Corporate Bank Site | ICBC |
| Best Information Security Initiatives | ICBC |
| Best in Mobile Banking | Citi |
| Best in Social Media | ICBC |
| Best Online Treasury Services | ICBC |
| | |
| --- | --- |
| Best Investment Management Services | Citi |
| Best Online Cash Management | Citi |
| Best Trade Finance Services | Samba |
| Best Web Site Design | Citi |
| Best Integrated Corporate Bank Site | Samba |
| Best Information Security Initiatives | Samba |
| Best in Mobile Banking | Citi |
| Best in Social Media | Citi |
| | |
| --- | --- |
| Best Online Deposit, Credit and Investment Product Offerings | Scotiabank |
| Best Bill Payment & Presentment | CIBC |
| Best Web Site Design | Scotiabank |
| Best Integrated Consumer Bank Site | Scotiabank |
| Best Information Security Initiatives | CIBC |
| Best in Mobile Banking | Scotiabank |
| Best in Social Media | Wells Fargo |
| | |
| --- | --- |
| Best Online Deposit, Credit and Investment Product Offerings | FinecoBank |
| Best Bill Payment & Presentment | Garanti Bank |
| Best Web Site Design | Piraeus Bank (Winbank) |
| Best Integrated Consumer Bank Site | Piraeus Bank |
| Best Information Security Initiatives | Standard Chartered |
| Best in Mobile Banking | Piraeus Bank (Winbank) |
| Best in Social Media | Garanti Bank |
| | |
| --- | --- |
| Best Online Deposit, Credit and Investment Product Offerings | Citi |
| Best Bill Payment & Presentment | TBC Bank |
| Best Web Site Design | Tatra Bank |
| Best Integrated Consumer Bank Site | TBC Bank |
| Best Information Security Initiatives | Citi |
| Best in Mobile Banking | Tatra Bank |
| Best in Social Media | Garanti Bank |
| | |
| --- | --- |
| Best Online Deposit, Credit and Investment Product Offerings | HSBC |
| Best Bill Payment & Presentment | Banco Popular Puerto Rico |
| Best Web Site Design | HSBC |
| Best Integrated Consumer Bank Site | HSBC |
| Best Information Security Initiatives | Banco Santander |
| Best in Mobile Banking | Santander Rio |
| Best in Social Media | Bancolombia |
| | |
| --- | --- |
| Best Online Deposit, Credit and Investment Product Offerings | HSBC |
| Best Bill Payment & Presentment | Standard Chartered |
| Best Web Site Design | HSBC |
| Best Integrated Consumer Bank Site | Citi |
| Best Information Security Initiatives | Standard Chartered |
| Best in Mobile Banking | Taishin Bank |
| Best in Social Media | CIMB Bank |
| | |
| --- | --- |
| Best Online Deposit, Credit and Investment Product Offerings | Standard Chartered |
| Best Bill Payment & Presentment | Abu Dhabi Commercial Bank |
| Best Web Site Design | Standard Chartered |
| Best Integrated Consumer Bank Site | Samba Financial Group |
| Best Information Security Initiatives | Standard Chartered |
| Best in Mobile Banking | Samba Financial Group |
| Best in Social Media | Standard Chartered |