Global Finance has released the rankings for its eighteenth annual Best Treasury and Cash Management Banks and Providers by category, region and by country. A full report on this exclusive survey will be published in the March 2018 issue, and winning organizations will be honored at an awards ceremony held during the Sibos conference on October 24 in Sydney.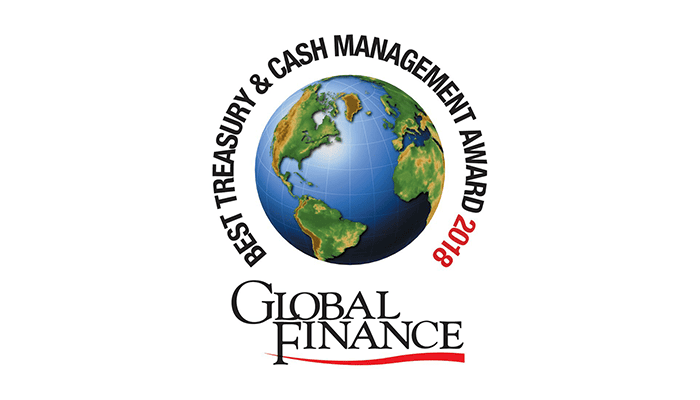 Global Finance has selected an overall global winner and global winners in six key sectors. Winners have also been chosen in 55 countries and regionally across five categories in Africa, Asia-Pacific, Central and Eastern Europe, Latin America, the Middle East, the Nordic region, North America and Western Europe. Global Finance also selected the Best Treasury Management Systems & Services providers in six categories and the Best US Regional Middle Market providers.
In addition, for the first time, honorees were chosen in the Best Corporate Implementation category. This category was open to submissions from banks, corporations and technology companies and provided an opportunity to showcase new TCM programs or technology implementations that demonstrated innovative problem solving or TCM best practices.
Global Finance used a multi-tiered assessment process—which included input from industry analysts, corporate executives, technology experts and independent research— to select the best providers of treasury and cash management services. A variety of subjective and objective criteria were considered, including: profitability, market share and reach, customer service, competitive pricing, product innovation and the extent to which treasury and cash management providers have successfully differentiated themselves from their competitors around core service provision.
"With too much money chasing too few opportunities, sophisticated financial leadership, based on detailed, timely information, is a critical component of smart corporate management today," said Joseph D. Giarraputo, publisher and editorial director of Global Finance. "Our Treasury & Cash Management Awards recognize the financial institutions that lead the field in providing their global treasury clients with insights and real-time tools that they need."
See thefull list of the World's Best Treasury & Cash Management Providers 2018 here.