Paloma Piqueras leads Global Wealth and Asset Management at BBVA, Global Finance's pick this year as the World's Best Private Bank for Clients with Net Worth Under $1 Million. She speaks about technology, how BBVA structures wealth management and the value of the nonfinancial components of its client service.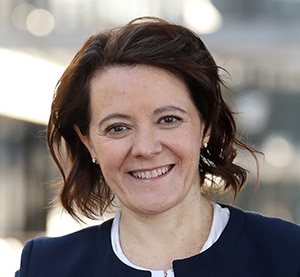 Global Finance: How is BBVA's private-banking business structured, and what sets it apart from its competitors?
Paloma Piqueras: BBVA's private-banking business is organized around a global approach to our clients, delivered through our expert local and international private-banking teams. We have local teams on the ground in more than 10 countries, including Spain, Mexico, the US and Switzerland, complemented by our international private-banking units (in the US and Switzerland) and a global wealth-management team based in Madrid.
We've developed a strong financial and nonfinancial offer, taking advantage of our global capabilities and our local expertise. BBVA has implemented an investment process based on the client's financial objectives (liquidity, capital preservation, income generation and growth) and the management of risk in their portfolio. Our nonfinancial offer is to advise our clients on such matters as health, art, education and family business, among others.
GF: How is technology changing the business of asset management, and what does BBVA offer to entice digitally savvy clients?
Piqueras: BBVA has 25.1 million digital clients, of whom 20.7 million are mobile clients, as of this past June. That represents increases of 26% and 43% year-on-year, respectively. To attract and retain them, BBVA has developed a banking app that Forrester Research has ranked as the world's best for the second year in a row. BBVA took the top spot thanks to "a superb balance between useful functionality and excellent user experience," according to Forrester.
Technology is transforming all of the wealth- and asset-management value chain, from the relationship with the client to the investment process and risk management. Especially important are cheaper and more powerful computing access and storage that allow the application of huge amounts of data to the investment process (either algorithm/quant investments or big-data insights on fundamental analysis) and easy client access to customized information and advice, so that the investment can be adapted to their life goals.
At BBVA, we seek to become the trusted financial adviser for our clients, so that we can help them achieve their life goals—including peace of mind—through a customized advisory offer leveraged off technology and data.
This is, for example, the objective of BBVA Invest, an already-launched tool providing clients with customized investment advice.
GF: What differentiates the regions where BBVA private banking operates? What is the future outlook for the business in these geographic areas?
Piqueras: BBVA's footprint includes emerging markets (Mexico, Peru, Colombia and Turkey, among others), developed markets (Spain and the US) and international private-banking hubs (US and Switzerland). Therefore, we have different regional dynamics in our private-banking business, but all show an important growth trend.
Improving our customers' experience—upper affluent, high net worth and ultra-high net worth individuals, and family offices—is our top priority and is what encourages us to keep being a pioneer in offering innovative, value-adding services.
We are working to improve customer convenience by bringing technologies closer to the user and developing do-it-yourself capabilities, leveraging data to customize our advisory services and building a strong, collaborative environment between the client, the banker and BBVA by means of "money can't buy" services.
We are constantly working to grow our domestic offer, which in the last few years has evolved significantly toward a global portfolio in line with the regulatory environment and our clients' targets and preferences.