SEARCHING FOR SECURITY
By Andrew Cunningham
Global Finance presents its half-year update to the World's Safest Banks Ranking. Canadian banks suffer downgrades but remain well represented in global safest rankings.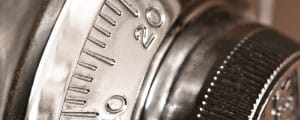 Downgrades by both S&P and Moody's have forced Canadian banks down the rankings of the World's Safest Banks. Bank of Nova Scotia, which placed 12th in Global Finance 's October 2012 review, has fallen to 21st place, while Caisse centrale Desjardins has fallen seven places to 23. Moody's downgrade of TD Bank Group means that no private-sector bank now holds a Triple-A rating from any of the three big rating agencies. But despite the downgrade, TD held its place as 11th-safest bank in the world.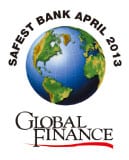 Not all Canadian banks were affected by the S&P and Moody's reviews, and with six of its banks still represented in the top 50, the Canadian banking system continues to be one of the strongest in the world.
European Banks still dominate the rankings, providing the 10 safest banks in the world, and 20 out of the top 50. State-ownership, accounts for most of the top ratings assigned to European banks. Rabobank, ranked 10th, is the highest-rated European bank that can claim genuine private-sector ownership.
Australian and Singaporean banks continue to feature strongly—four Australian banks are represented in the Global 50, holding positions 16 through 19, and three from Singapore, holding positions 12 through 14.
Three banks have fallen out of the Global Safest 50 rankings since our last review. In addition to National Bank of Canada, BNP Paribas and Shizuoka fell short. They have been replaced by Korea Finance Corp (33rd), Industrial Bank of Korea, (40th) and Norway's DnB (50th).
The two Korean banks made great strides, as did Chile's BancoEstado, which climbed from 42nd place to 36th, based on an upgrade from S&P and a first-time rating assigned by Fitch. Svenska Handelsbanken climbed five places to 22, and Nordea climbed four places to 20.
The Global Finance Safest Banks rankings are based on ratings assigned by Fitch, S&P and Moody's with banks receiving scores based on rating levels assigned. Banks that achieved the same score are ranked by asset size. Asset data used for the April 2013 update is the same as that used in the October 2012 Safest Banks List. All the banks in the update to the top 50 list scored at least 18 points—equivalent to three A+ ratings — although not every bank that achieved 18 points is included in the top 50. Seven banks that scored 18 points are not included because their asset sizes are less than that of the bank ranked 50th. The seven are: State Street, Shizuoka Bank, National Commercial Bank, Suncorp Metway, Al Rajhi Bank, Riyad Bank and Banco Santander Chile.
METHODOLOGY
How we compiled the list
The safest banks list compares the ratings for the world's largest 500 banks, based on asset size. Long-term foreign currency ratings issued by Fitch Ratings, Standard & Poor's and Moody's Investors Service were used. Banks rated by only one of the three agencies were ineligible for inclusion. Banks that are 100%-owned by a parent financial institution were omitted. Government import-export banks were also omitted.
Within each rank set, banks were ordered by asset size, based on year-end 2011 data supplied by Fitch Solutions and Moody's. Ratings are reproduced with permission from the three rating agencies with all rights reserved. A rating is not a recommendation to purchase, sell or hold a security, and it does not comment on market price or suitability for a particular investor.
Fitch Ratings/Standard & Poor's Moody's

| | |
| --- | --- |
| AAA | Aaa |
| AA+ | Aa1 |
| AA | Aa2 |
| A+ | A1 |
| A | A2 |
| A– | A3 |