VIETNAM
By Thomas Clouse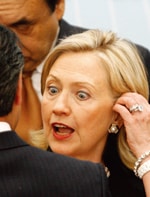 Clinton: Comments on
marine conflicts upset China
Vietnam and the United States participated in joint military exercises last month for the first time since the war between the two countries ended 35 years ago. The military training session is only one of several signs of warming ties between the former foes. The US has agreed to assist Vietnam in developing nuclear energy capabilities and offered to facilitate its dispute with China over territory in the South China Sea. Since the two established diplomatic relations in 1995, the United States has grown to become Vietnam's largest export market and biggest foreign direct investor.
The military exercises come less than a month after US secretary of state Hillary Clinton declared at the Asean Regional Forum that the United States had strategic interest in seeing conflicts in the South China Seas resolved. The comment angered China, which believes that disputes over territory in the South China Sea should be resolved bilaterally. Indonesia, Taiwan, Malaysia, Brunei and the Philippines all have competing claims with China on territory in the sea. Control over busy shipping lanes, important fishing grounds and oil and natural gas deposits is at stake.
Simon Tay, chairman of the Singapore Institute of International Affairs, says the July meeting was particularly significant: "The recent Asean Regional Forum has sent a signal to China of concerns about its intentions in the South China Sea. After more than a decade of Chinese charm, there are questions of competing interests and concerns about attitudes as China continues to rise."
The United States also joined military exercises with South Korea in July and plans further exercises soon, though the two nations have not projected an exact date. North Korea and China have both criticized the military drills, with North Korea threatening retaliation and editorials in China's state-run media charging that the military drills disrespect China's security interests.
The criticism put further pressure on the Sino-US relationship, already tense over US arms sales to Taiwan and China's rising trade surplus. China in recent weeks has diversified its buying of government bonds away from US Treasury bonds, upping significantly the proportion of Japanese government bonds in its portfolio.