NEWSMAKERS: PHILIPPINES
Philippines Chooses Corruption Fighter For President
By Thomas Clouse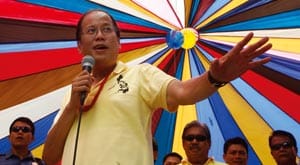 Aquino: Promises to investigate previous election results
Benigno Aquino III will become the next president of the Philippines, after his pledges to fight corruption and reduce the country's record high budget deficit propelled the first-term senator past eight other candidates last month in the Philippines' presidential election. Aquino will take over the position from Gloria Arroyo, whose controversial nine-year run as president has been plagued by corruption allegations. Aquino's anti-corruption credentials come less from his short political career than from his parents' positions as the country's most famous democratic figures. Aquino's father, Benigno Aquino Jr, campaigned against dictator Ferdinand Marcos and was assassinated in 1983 after returning from a trip to the United States. Aquino's mother, Corazon Aquino, served as Philippine president from 1986 to 1992. Her death in August of last year brought support for Aquino's presidential campaign.
Violence and accusations of corruption have historically accompanied elections in the Philippines, and investors have watched the campaign season carefully. Despite some violent incidents and doubts about the effectiveness of electronic voting machines, the election proceeded smoothly, and markets responded, with the country's stock market showing strong gains during the election week. Still, the transition phase could be a turbulent one for Aquino, who has promised to investigate allegations of vote-rigging in the last presidential election in 2004.
Outgoing president Arroyo, who could not run for president again because of term limitations, won a senate seat in her home province and may seek the position of house speaker. Meanwhile, Imelda Marcos, widow of the Philippine dictator whom Aquino's parents helped overthrow, was also among the winners, picking up a seat in the House of Representatives. Marcos's son won a seat in the Senate, and her daughter was elected governor of the family's home province.