Senegal is becoming a magnet for foreign direct investment.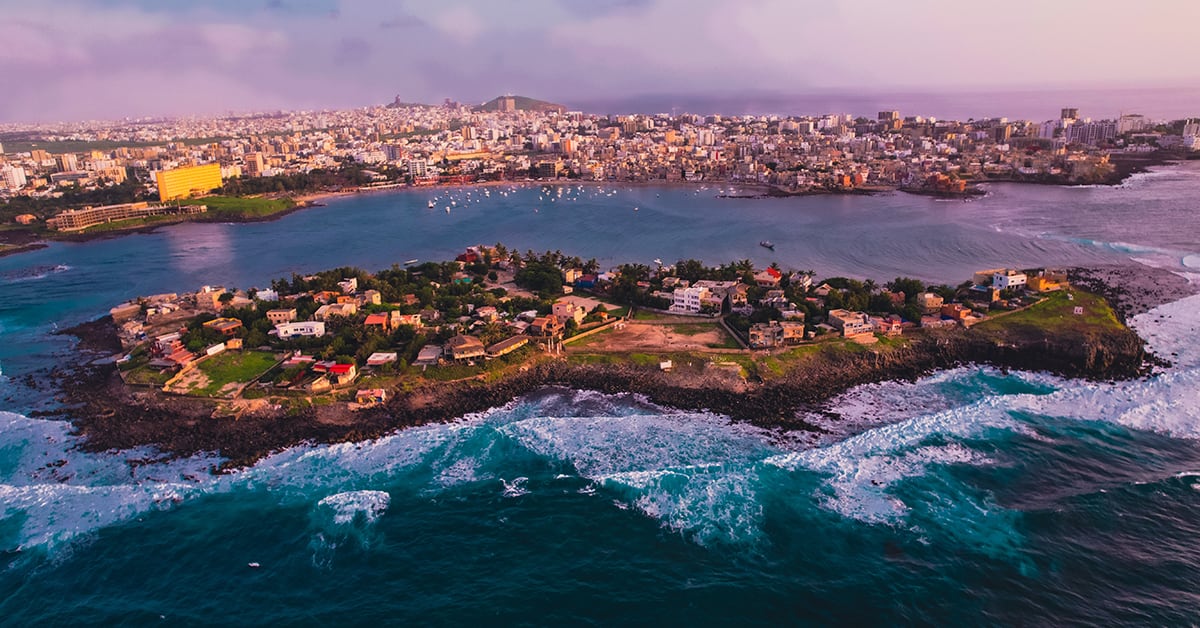 CONS
High real estate and energy costs
Inefficient judicial system
Opaque public procurement practices
Vulnerability to climatic hazards
Large public debt, significant current account deficits
Sources: Africa Development Bank; Allianz Trade; APIX; CIA World Factbook; Deloitte; Fitch Solutions; Government of Canada Global Travel Advisory; International Monetary Fund; Lloydsbanktrade.com; Trading Economics; Transparency International; Unctad; US Department of Commerce, International Trade Administration; US State Department; World Bank; World Population Review
For more information, check out Global Finance's Senegal Economic Report data page.
A broad rule of thumb has it that for foreign investors in Africa, failure has to be an option. However, a passel of large investors are betting that Senegal can prove this dictum wrong. Case in point is DP World, the Dubai-based logistics company that recently committed $1.1 billion to port construction in Senegal.
Over the past decade, Senegal has become a focal point for foreign investors in a region where coups and political instability are otherwise the norm. It is the only country in the region that has never had a coup. President Macky Sall, in office since 2012, is due to leave office next year, although there is much speculation he will seek a third term that has fueled riots by the opposition in recent weeks. Yet, Sall still has refused to rule out the possibility.
"Senegal has established a favorable investment environment thanks to a strong political vision," says Suhail Al Banna, CEO for Middle East and Africa at DP World. Under its long-term development master plan, Plan Sénégal Emergent (PSE, or Plan for an Emerging Senegal), the nation of 17.6 million has implemented a package of reforms aimed at improving the environment for foreign investors. These include generous tax breaks and unrestricted foreign ownership of businesses.
DP World's investment in a deep-water port at Ndayane, down the coast from Dakar, the capital, is the largest bet the company has ever placed on Africa and the most significant single private investment in Senegal's history. Apart from being granted customs and tax incentives, DP World will benefit from protection against nationalization and a free hand to repatriate profits.
"Senegal's political stability and proximity to Europe and the US are factors in facilitating foreign investments," says Omar Cissé, CEO of InTouch, a Dakar-based, Pan-African fintech. Despite high levels of poverty, inequality and unemployment—and signs of political unrest—the country offers plenty of opportunities, he adds, including strong cross-border connections to the wider West African market.
All of this has contributed to a steady rise of foreign direct investment (FDI) into the country. Data compiled by the UN Conference on Trade and Development (Unctad) shows the stock of FDI in Senegal rising from $4.9 billion in 2017 to $10.5 billion in 2021. France has historically been Senegal's largest source of FDI, but China has now become the top source. Other countries include Turkey, the United Arab Emirates, the UK, the US, Indonesia and Morocco, among others.
Strong GDP Growth Projected
With an estimate of 4.8% growth in GDP for Senegal in 2022, the World Bank projects a jump to 8% in 2023 and 10.5% in 2024. The highest annual GDP growth the country has ever recorded was 8.9% in 1976.
Should the World Bank forecasts pan out, it could encourage a further ramp-up in FDI growth, validating the government's strategy, as outlined in the PSE, to transform Senegal into a middle-income economy with a high quality of life by 2035 by establishing it as a regional commercial, services and transportation hub. FDI is at the core of this strategy; and the government's investor-friendly measures have encouraged overseas companies to tap opportunities in sectors like oil and gas, mining, renewable energy, construction, financial services, agribusiness, tourism, manufacturing and fisheries.
One of the more-recently arrived investors is the International Fund for Agricultural Development (IFAD). In February, the Rome-based financial institution partnered with InTouch and other local firms to improve access for migrant workers outside the country to tailored financial services that allow them to send money to their families in a cheaper, faster and safer way. Remittances have been on a growth path in Senegal, hitting $2.9 billion in 2022 and averaging roughly 10% of GDP over the last decade. "Our aim is to increase access to digital and financial services and products in rural areas," says Pedro de Vasconcelos, manager of IFAD's Financing Facility for Remittances.
Oil and gas, renewable energy and mining are receiving special attention. The discovery since 2014 of more than one billion barrels' worth of oil and about 41 trillion cubic feet of proven natural gas reserves off the coasts of Senegal and Mauritania has put the country on the map as a major hydrocarbon-producing nation. Two major projects: Sangomar, under development by Australian operator Woodside Energy at a cost of $4.6 billion; and the $4.8 billion Greater Tortue Ahmeyim liquid natural gas project operated by BP and the US operator Kosmos Energy, are preparing to come onstream later this year. Senegal forecasts earnings of $1.4 billion from 2023 to 2025, based on a benchmark price of $90 per barrel.
In renewable energy, Lekela Power, a Netherlands-based independent producer, is investing $330 million in the Taiba N'Diaye wind-power station northeast of Dakar, the largest wind farm in West Africa. It is expected to reach a total generation capacity of 158.7 megawatts—and when completed, to increase electrical-generation capacity in Senegal by 15% for over two million people, reducing the cost of electricity in a country that experiences some of the highest prices in sub-Saharan Africa.
Opportunity and Unrest
"The ability by Senegal to unlock better private sector infrastructure investments has created many opportunities," says DP World's Al Banna. Structuring progressive public-private partnerships in huge projects has also made it possible to explore financing options like long-term bonds, including Islamic bonds or sukuks, minimizing Senegal's dependence on classic project financing such as external borrowing, easing pressure on government revenue.
All of this speaks to investor expectations that Senegal's star will continue to shine. However, President Sall's decision to remain mute over speculation that he might run for a third term is causing consternation and fears of political instability. Inequality, meanwhile, remains rampant in Senegal. Development is highly concentrated in the capital, Dakar, where some 14% of the population lives, while the rural population has largely been left behind, creating a breeding ground for possible uprisings. And while the country has experienced noticeable progress in knowledge transfer from a well-qualified Senegalese population living in the diaspora, lack of skilled local labor is still an area of concern.
"Senegal remains a small and limited market for foreign investors," says InTouch CEO Cissé, noting that most businesses investing in the country want to use it as a springboard for exploiting the wider West African region. Should progress in Senegal stall, those investors could opt to expand their presence to other regional markets to grow efficiently and at scale.