MILESTONES: VIETNAM
By Thomas Clouse
Vietnam's policymakers are struggling to rein in inflation after the consumer price index (CPI) rose by a two-year high of 13.9% year-on-year in March.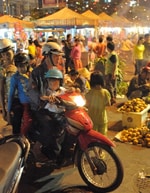 Spending roars ahead
The country performed well throughout the global financial crisis, posting GDP growth rates of 5.3% and 6.8% in 2009 and 2010 respectively, but now faces intense inflationary pressure after stimulus measures greatly expanded the monetary supply.
Policymakers have pledged a series of measures to reorient the country's economic development toward stability rather than rapid growth. Among those measures are plans to limit new credit growth, cut back on government spending, reform state-owned enterprises (SOEs) and boost social welfare services.
Suiwah Leung, an associate professor of economics at the Australian National University, says the policy is off to a slow start: "The only concrete step taken is monetary tightening, with the policy interest rate being raised to 13% and targeted credit growth reduced to under 20% annually." It is too early to evaluate progress on the government's other goals, she says.
Leung points out the challenges the government faces in reducing credit growth: "Assuming that Vietnam maintains a real annual growth rate of 7% for the next five years, and that the inflation rate is around 7%, then keeping the current stock of credit-to-GDP from rising further would mean a credit growth rate of around 13% for the next five years—a rate of credit growth that is lower than any in the past decade." Leung believes it will be tough for the State Bank of Vietnam to resist the pressure exerted by SOEs and other politically well-connected corporations.
These SOEs reduce the efficiency of the economy, according to an April report of the Asian Development Bank. "State-owned firms are a drag on the economy. They absorb many of the available resources, but their efficiency is much lower than private firms," the report noted, recommending that SOEs should be exposed to more competition. The ADB does offer a positive long-term forecast for Vietnam's economy, however: "The medium-term outlook remains favorable, with the proviso that macroeconomic stability is restored and maintained." Foreign investors are betting on that positive outlook. New York–based KKR & Co announced last month that it would invest $159 million in Vietnamese fish sauce maker Masan Consumer Corp, marking the largest private equity investment ever in Vietnam.