Ugochukwu Nwaghodoh, group CFO of United Bank for Africa, speaks with Global Finance about how the continent's youthful populations have rapidly embraced digital technology, and the vast market opportunities that remain.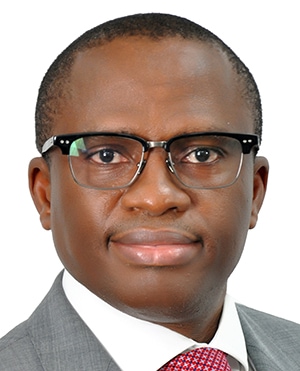 Global Finance (GF): The future of banking in Africa will be digital. How is UBA preparing?
Ugochukwu: We have one of the most robust digital banking channels in Nigeria. We recently pioneered the first virtual-banking chatbot in sub-Saharan Africa, which we named Leo. Leo executes customers' transactions, communicating through simple chats via Facebook. We have the second-highest number of automated teller machines (ATMs) and point of sales (PoS) in Nigeria, having deployed over 2,300 ATMs and more than 13,500 active PoS. We pioneered Twitter alerts for all customer transactions and we remain one of the very few banks to launch a mobile banking application with fingerprint- and retina-recognition security features.
We are leveraging our digital offerings to solve payment problems. For example, our proprietary intra-Africa remittance platform is helping customers transfer money within Africa at just about 50% of the cost of using international money- transfer organizations whilst also helping to formalize transactions that were hitherto done through the informal sectors, with cash movements across national borders. We are leveraging our digital banking channels to work with multilateral institutions in Nigeria, Liberia, Benin, Burkina Faso, Zambia and a number of other markets to facilitate subsidy payments to farmers and the most vulnerable. We are offering fintech solutions to donor agencies, government institutions and multilateral agencies to solve payment problems in national health, education and other social intervention programs. More importantly, our technology offerings have been successfully deployed to help government facilitate tax and other revenue collections, easing the burden of physical remittances, increasing the tax/revenue base and also blocking leakages.
GF: UBA operates in 19 African countries apart from Nigeria. How does continental spread add value to the bank?
Nwaghodoh: Our geographic diversification provides earnings and risk diversification. Notably, some 45% of our 2017 profit was attributable to our subsidiaries outside of Nigeria compared to barely 20% about five years ago. Our diversification de-risks our portfolio and provides strong earnings growth capacity and stability for our business.
GF: What factors are driving the emergence of digital banking in Africa?
Nwaghodoh: First is the continuous improvement in technology, which is providing the basis for innovations in digital banking. The second is increasing urbanization and technology adoption in Africa, especially with the increasing penetration of telecommunication services. Africa has seen notable investment in telecommunication infrastructure in the past decade and this is helping improve telephone and internet penetration. Android phones are increasingly affordable, thus supporting digital banking. Social media provides a veritable lifestyle platform for the growing elite population. Banks must offer services to customers through this new media.
GF: How does the Nigerian environment encourage digital banking? What are the major challenges?
Nwaghodoh: The youthful population is highly supportive of digitization, as millennials are fast embracers of new technologies compared to the older generation. Interestingly, Africa boasts the most youthful population in the world, hence we have a natural factor that supports digital banking. The weak infrastructure and attendant high costs of operating bricks-and-mortar branches also reinforce the need for digital banking, which helps to achieve greater cost efficiency.
Notwithstanding the notable investment in the telecommunication sector, Internet penetration is still low compared to developed markets, and services are not as reliable, thus impeding the potential growth of digital banking on the continent.
GF: Does the rise of digital banking imply a redefinition of the role of banks?
Nwaghodoh: Definitely. Banks will continue to play their traditional financial intermediation role but service offerings are now a lot more than safe-keeping of money and lending. It's a radical shift that opens up new opportunities and expands the scope of banking beyond the traditional offerings. Banks are increasingly becoming socioeconomic companions that improve customer lifestyles.