NBK is successfully executing its strategy to increase growth and expand outside its home market, says the bank group's CEO.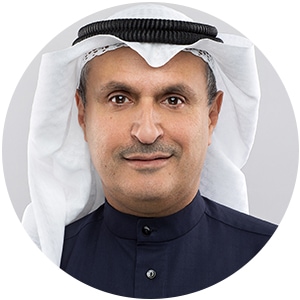 Global Finance: NBK's 2016 results were good, given the more challenging domestic and regional operating environments. What were the drivers behind the results?
Isam Al Sager: NBK delivered a strong set of results in 2016. Net profit for the group reached $964 million, up 4.6% year-on-year. Net profit was 11.2% higher, excluding the one-off gains from the sale of our Qatari associate in 2015. Performance in 2016 was driven by core banking activity and strong business volume. Net interest income grew by 7.5%. The group has succeeded in harnessing business opportunities across its operating sectors and environments.
GF: NBK's international operations currently contribute circa 30% of the bottom line. What countries or regions do you believe offer the most potential?
Al Sager: Contributions from outside Kuwait reached a higher 32% of group profit in 2016, and we continue to see opportunities in the markets we operate in. Our strategy focuses on organic growth, as we target high-growth markets, especially in the Gulf Cooperation Council (GCC) as well as in Egypt. NBK's emphasis in Egypt is on positioning itself for growth as Egypt stabilizes and the economic reform program attracts foreign investment.
Outside the Middle East and North Africa, the bank's presence spans many of the world's leading financial centers.
GF: How is your Islamic operation Boubyan Bank performing?
Al Sager: We continue to see positive momentum at Boubyan Bank, with the subsidiary delivering 13% of group profits in 2016. A competitive advantage that NBK embraces is having access to conventional banking in addition to Islamic banking in Kuwait. Boubyan Bank is a key element of the group's strategy going forward.
GF: Has NBK's consumer-banking division been affected by the associated impact from the lower oil price?
Al Sager: The impact of lower oil prices on the Kuwaiti economy has been limited compared to peers in the GCC. The government's determination in executing its capital spending program, and the acceleration seen in awarding and executing projects, reflected positively on the business environment. We saw the impact trickling down on all economic activity and non-oil GDP growth picking up in the past two years.
GF: Another of the bank's aims is to develop a regional investment banking, asset management and brokerage operation. Is NBK making inroads there?
Al Sager: Our ambition to develop a regional investment bank is executed through our investment banking arm, NBK Capital (NBKC). NBKC's role has been more active in financial advisory services in Kuwait, supporting the major private and public sector players and advising on several megatransactions across different industries.
GF: Are you positive about the prospects for Kuwait in 2017? And if so, why?
Al Sager: Kuwait is expected to maintain healthy growth despite lower oil prices. Growth is being driven by the government's development plan, which has
sustained an improved pace of implementation over the last three years. Pickup in business activity continues as the government awards and executes megaprojects.
Ambitious capital spending targets have boosted investment. The government launched a road map for fiscal and structural reforms in 2016 that should bolster fiscal sustainability and economic growth in the medium to long term. The ability of the government to finance projects is not in question, thanks to the sizeable reserves and ample liquidity that keeps Kuwait in a better position than neighboring countries.