Xingfei Chen, deputy general manager of the Transactions Banking Department of China Guangfa Bank (CGB), this year's Most Innovative Bank, talks about how the bank makes innovation central to its operating philosophy and some of the "firsts" that make it a Star of China.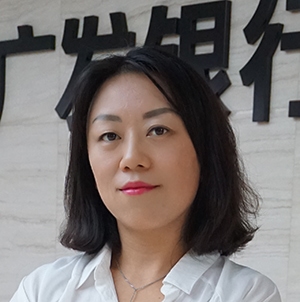 Global Finance: Why is innovation so important for CGB?
Xingfei Chen: With the economy's rapid development, customer financial needs have become more diversified and integrated. At the same time, the fintech wave is affecting traditional banking. We were one of the first banks in China to launch international-standard credit cards in 1995, and one of the first to achieve universal deposits and withdrawals in 2000. In corporate finance, CGB led other Chinese banks by opening a transaction banking department at its headquarters in 2012, taking the lead with "one window, multiple corporate banking services." In 2013, we launched the first corporate bank card, integrating settlement, transaction, financing and cash management functions. The bank has continuously strengthened its business during the past 31 years of hard work.
GF: How would you describe the success of credit products designed to support the real economy?
Chen: CGB launched an individual operational mortgage loan known as "Mortgage Easy" in response to a national policy embracing "mass entrepreneurship and innovation" to support the real economy through financial services and SME financing. Mortgage Easy is a business loan designed for small- and micro-enterprise owners guaranteed by an applicant's family real estate. It offers competitive advantages such as high credit limits, long loan terms and high loan-to-value ratios. A loan amount can reach up to 10 million yuan, and the loan-to-value ratio can reach up to 70%. Meanwhile, by accessing data from the State Administration for Industry and Commerce, State Administration for Taxation, and other third parties, Mortgage Easy can significantly reduce the paperwork customers need to provide for approval. CGB will further assist SMEs in the future.
GF: CGB's Corporate Mobile Banking app for transaction services has more than 80,000 clients. How are your clients reacting?
Chen: We have received positive feedback from many clients through different channels. Most often mentioned are "convenient" and "safe." Guangdong YF Pharmaceutical is a private enterprise customer of the CGB Guangzhou Branch providing Chinese herbal and patent medicines. In recent years, the client intensified marketing, and sales expanded. With upstream and downstream clients, daily fund settlement needs are strong. The app greatly improved transfer efficiency as submissions and authorizations can be completed anytime, anywhere. The company says business has grown rapidly.
GF: How does CGB's domestic supply chain financing through "E-Second" support the real economy?
Chen: CGB aims to meet the comprehensive financial service needs of customers along supply chains in various industries, reduce operational risks and improve efficiency. The bank launched the "E-Second Supply Chain" product to provide automated, online, high-speed financing covering supply chain financing and commercial bills, with all products processed online. CGB is the first commercial bank in China to provide interbank bills discounting and online commercial bills discounting services 12 hours a day, seven days a week.
GF: Any other innovations that helped CGB rise above the others?
Chen: CGB pursues development through technological investment in corporate finance. For transaction banking, CGB keeps improving competitiveness through research, and progressed by transforming corporate financial services from offline to online, computers to mobile phones. Services are becoming more intelligent, more fintech, more comprehensive.