The public cloud is convenient but risky. So companies are turning to hybrid and multicloud arrangements—or even bringing their data back onto private-cloud networks.

Deutsche Bank announced in May that it is implementing a so-called hybrid cloud strategy, designed to save the bank substantial money on information technology (IT) infrastructure and staff while increasing the services it can offer worldwide customers.
"Instead of buying a physical server, you now just request a quantum of computing power for a certain period of time, matched to the capacity and duration that you really actually need," Frank Kuhnke, COO of the German lender, told the Morgan Stanley European Financials Conference in March. "The benefits are much greater flexibility, faster time to market and reduced cost."
The announcement marked something of a debut for major money center banks in an increasingly crowded field. Given their fundamental concerns about data security, banks have been reluctant to subcontract computing or data storage to outsiders. But the arguments in favor of public cloud services, from a customer point of view, are compelling. Now banks, late to join the cloud party, are scrambling to catch up with other businesses and devising hybrid solutions, analysts say. Already, heavy data needs put banks among the leading users of the public cloud, says IDC. They're forecast to become the biggest spenders, too, shelling out $22 billion on cloud services in 2019.
Customers want to check their account balances and do simple transactions on their mobile phones, and the public cloud often offers the easiest solution for those basic functions. "It makes a lot of sense for those customer-facing functions to be hosted on a public cloud, because you can scale things to accommodate more customers," says Melanie Posey, a cloud analyst and research vice president at 451 Research. Institutions like Deutsche Bank can take advantage of so-called Everything-as-a-Service applications on public clouds that charge only when they are being used rather than leasing servers that might stand idle much of the time.
Security Still Critical
Concerns about data security haven't gone away, however. For banks' sensitive data, which mainly resides on legacy mainframes, keeping it in-house not only keeps it safer against hackers but is more economical, Posey says.
In fact, cybersecurity is one of the principal reasons some companies are moving in the opposite direction, shifting some of their data and sensitive applications away from public cloud infrastructure, even though companies like Amazon are spending billions beefing up their own cloud security. While public cloud providers can update software automatically to avoid nasty hacking surprises, often firms need custom security solutions.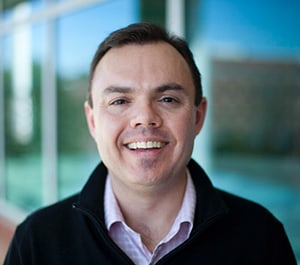 Ferris, Red Hat: The capabilities of on- and off-premises computing have matured to the point where you have much more choice.Arthur, Standard Chartered: We are exploring AI and robotics to bring greater resilience to FCC.
When IDC surveyed 400 IT decision-makers at major companies last year about their cloud strategies, some 80% said they had migrated either data or applications to a private network, citing security as the main reason for the move. Interestingly, when the same executives were surveyed by IDC this year, the primary reason given for moving to private clouds was to improve performance.
But wasn't the original rationale for moving to the public cloud the opportunity to cut costs? In the last decade, the cost of buying and running one's own server network has plummeted; doing so has become, in many cases, more than competitive with public server networks.
Consider the example of Dropbox, the San Francisco–based file-hosting service. As a startup, it relied almost entirely on cloud-based Amazon Web Services (AWS), but then decided to migrate to a private cloud structure. According to the company's S-1 form, filed last year with the Securities and Exchange Commission ahead of its IPO, Dropbox saved $39.5 million in 2016, the first year it moved its operations to private cloud infrastructure, and forecast similar savings for ensuing years.
Performance is another consideration. "As customers, especially larger customers, work through their IT investments, they find that sometimes workloads that in a public environment just don't perform in the way they thought," says Michelle Bailey, IDC's cloud analyst.
The upshot is that companies are turning to tailored approaches. Some are building applications, testing them in a public cloud environment and moving them to a private cloud once development is finished. "More often than not, either it's related to performance—which means latency or availability—or it's related to security," Bailey says. Latency refers to the speed of data moving through the platform.
One result of the latency problem is what has been called "edge computing," where companies place data centers close to the end user: a big factor in the current growth at Amazon, Microsoft and other providers. One innovative provider has even set up data centers in shipping containers that it places close to the base of cell towers, reducing the time it takes for data to reach customers' cell phones.
Hybrid cloud operations, like Deutsche Bank's new service, aim to capture the advantages of both public and private structures. "Banks are doing a lot in terms of hybrid cloud; because in some ways they are a consumer business, like Netflix or buying stuff online from [Swedish retailer] H&M," says Posey. Hybrid cloud allows companies to bring some assets back from public networks to their own proprietary ones—a move some have dubbed "repatriation"—to either enhance security or reduce outlays to cloud providers such as AWS, Microsoft's Azure or Google.
"The capabilities of on- and off-premises computing have matured to the point where you have much more choice," says Mike Ferris, vice president of business architecture at Red Hat, just acquired by IBM for $34 billion, which is handling Deutsche Bank's hybrid rollout. "You can decide what and where you want to leverage things, giving customers options they never had before."
Deutsche Bank's Kuhnke says that, partly as a result of its hybrid cloud plan, the bank reduced its overall IT spending by 30%, including a reduction in head count of 845 people.
An analog to hybrid cloud is multicloud strategy. Rather than moving all assets to a single public cloud provider, companies slice and dice their IT operations to take advantage of the best available services from the major cloud providers as well as a host of new entrants that offer specialized security and pay-as-you-go applications.
"When a company leverages a multicloud environment, typically they're best-of-breed focused," says David Linthicum, chief cloud strategy officer at Deloitte. "They're looking for the best-of-breed storage system for their application and data set, best-of-breed central processing units, best-of-breed cognitive computing, best-of-breed cloud-based databases and best-of-breed security; and they're picking and choosing based on two or three different clouds they have in their arsenal."
All of that can make managing a hybrid cloud more complex. Accordingly, many companies are turning to third-party service providers or systems integrators that combine cybersecurity, software applications, automation tools and compliance capabilities, reducing the client's IT overhead.
"A lot of the enterprise customers we work with want to be able to have their workloads placed where they get either the best performance or the best cost or the best experience for their customers," Bailey says. "It's very, very hard for one vendor to do all that. The model going forward is that you'll have multiple vendors and multiple clouds and some on-premises and some off-premises."
The move to hybrid and multicloud strategies is not denting the robust growth of public clouds, however, but expanding their use. IDC forecast in February that worldwide spending on public cloud services would increase 23.8% in 2019 compared with the year before, reaching a total of $210 billion. AWS reported a 47% year-on-year growth in net sales and operating income of $7.3 billion in 2018, even beating out Amazon's North American e-commerce revenue of $7.27 billion.
"The public cloud absolutely is still growing, and it's growing quickly on a pretty large install base," says Bailey. "What's happening is companies are investing in their private cloud base as well, modernizing data centers and infrastructure and working on tolls that enable better governance and security."