Best Internet Banks


In the first of a two-part series, Global Finance identifies the best online corporate and consumer banks by country and product or service category.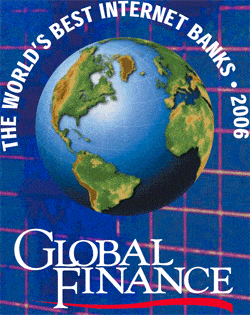 For banks, the battle for supremacy on the Internet is one of both perception and reality. It isnt good enough to have the strongest security systems and best line-up of products and services. You also have to convince clients and prospects that you do.

The steady drumbeat of headlines, studies and reports about identity theft, phishing and pharming attacks and other breaches of banks and customers data in the past couple of years has made the Web a challenging operating landscape for banks. Deloitte Touche Tohmatsus 2006 Global Security Survey of large financial institutions, mostly banks, found 82% reporting that they had experienced a breach of their security systems. And 72% of those institutions said they had been victimized by an external breach. The most common external breaches were viruses and worms, phishing and pharming attacks and spyware or malware.
Internet banking is enabling huge savings in cost per transaction, time per transaction, and infrastructure investments. At the same time, banks have to resolve the paradox of increasing costs and maintaining brand image by providing the most secure environment, says Shripad Vaidya, senior banking specialist with Tata Consultancy Services. In fact, some of the banks have reverted from quick, hassle-free transactions to restrictive transactions, adding cushions to ensure safety of transactions.
Among the tools banks have deployed are anti-virus software, firewalls, virtual private networks, spam-filtering solutions, content filtering and monitoring, access-management systems, network-penetration tools and vulnerability management systems. But banks are increasingly considering or rolling out stronger forms of encryption, multiple authentication methods, anti-phishing software, wireless-security systems and biometrics.
For example, Canadabased TD Bank Financial Group, with more than 4.5 million online customers, is offering customers of its EasyWeb Internet-banking service free anti-fraud online software from Symantec to identify and stop phishing scams. Phishers use phony websites and email to lure bank customers into providing them with personal financial and account information.
Some threats are less real than people imagine, though. In spite of the extent and perception of security threats for Internet banking, bankers are more than convinced on the need to capitalize on the advantage offered by the Internet, says Vaidya. Banks have found that the perception of a threat is much higher in the minds of the customers than the actual threat. And those customers still want to be able to do everything online, do it instantly and access online services any time, anywhere. Younger consumers are particularly Net savvy and demanding of faster, more convenient online servicesand they are the people who will be seeking home mortgages, car loans, credit cards and other banking products down the line.
Feeding the need for speed, the Citibank Direct online bank, rolled out in March, offers consumers located anywhere in the United States the chance to open an account in less than 10 minutes. It uses real-time decision-making and identification verification. Once signed up, Citibank Direct clients can access all its products and services, including savings and checking accounts as well as debit and credit cards, and access Citibanks more than 900 branches and 3,100 ATMs. Customers can also check balances, pay bills, transfer money and open new accounts.
Citibank Direct [is] a major part of our commitment to ensure that customers can reach us anywhere, any time, and in any way that they want to do business with us, says Catherine Palmieri, managing director of Citibank.com. Citibank says it will launch Citi Mobile, a mobile-phone-enabled banking service, later this year.
Banks are getting more sophisticated in their efforts to cater to consumers who want to be able to bank across multiple channels 24/7. For example, Standard Bank of South Africa has introduced speech banking. A speech-recognition system allows clients to access their accounts and process transactions without having to talk to anyone. Bank officials say it is like Internet banking without touching a keyboard or keypad.
As services mature, the Web is steadily building an increasing share of bank-product sales. For instance, United Kingdombased Alliance & Leicester says that in 2005 over 30% of its core retail banking products were sold via the Internet. That was up from 20% in 2004. Alliance & Leicester has seen the number of total transactions carried out over the Internet nearly double from 2004. It now has more than a million registered Web-banking customers.
Convenient payments are one key to keeping customers happy. Irelands AIB Bank says consumers have flocked to its international-payments service. The bank says customers have made 30,000 online international payments to 85 different destinations since AIB rolled out the service in early April. Poland and the UK were the two most popular destinations for these payments. AIB processed three-quarters of the payments for free because they were money transfers of less than E5,000 within the eurozone. AIB International Payments is an automated, cost-effective, self-service customer solution that eliminates the need to complete paper application forms or queue in the branch, the bank says on its website.
On the corporate Internet-banking side, popular services include digital-check imaging, which allows business customers to make deposits electronically and remotely. Wells Fargo reported on July 19 that it had already processed $65 billion in deposits via the check-imaging services it introduced in response to federal legislation adopted in 2004. The San Francisco-based, $500 billion-asset bank said the number of businesses using its Wells Fargo Desktop Deposit service since the end of 2005 nearly tripled to 1,400, while the number of checks scanned grew by 500% to more than 8 million. Wells Fargo worked closely with hundreds of customers to design a service that would make depositing checks simpler, easier and more convenient, says Stephanie Sturgis-Griffin, senior vice president of wholesale Internet solutions for Wells Fargo.
Global giant HSBC has found that corporate-banking customers seek centralized, streamlined transaction capabilities that can be easily integrated with accounting and treasury platforms. It has implemented those enhancements plus security and ease-of-use upgrades as it has rolled out its flagship HSBCnet corporate-banking platform around the globe. In February HSBC made all content from its Research@HSBC website available on HSBCnet to further boost the integrated suite of research, investment, trade and commercial-banking services.
The overriding theme of these awards is that the winners are able to successfully enhance their offerings while simultaneously enhancing security measures and getting customers to believe in them.



THE AWARDS: HOW THEY WORK


In this issue we reveal the Best Corporate/Institutional and Consumer Internet banks at the country level. Regional and global winners in these categories will be announced at an awards ceremony in New York in November and in our December issue.
The current issue also identifies the award-winning banks in five Corporate/Institutional and seven Consumer sub-categories in the six regions, including Best Online Cash Management on the corporate side and Best Bill Payment & Presentment in consumer banking. Another key sub-category is Best Information Security Initiatives, honoring both corporate/institutional and consumer banks. This sub-category honors banks with the most comprehensive and forward-thinking strategies to address security risks. Global winners in the sub-categories will also be announced at the awards dinner and in the December issue.
All first-round winners were chosen among entries evaluated by a world-class judging panel consisting of representatives from Tata Infotech. Global Finance editors were responsible for the final selection of winners in the first round. Only banks that entered the competition were considered for awards, and awards are only given in those regions, countries and categories in which there were entries.

Winning banks were selected based on the following criteria: strength of strategy for attracting and servicing online customers, success in getting clients to use Internet offerings, growth of online customers, breadth of product offerings, evidence of tangible benefits gained from Internet initiatives, website design and functionality, and the strength of the banks security initiatives.

> See owr award winners


Adam Rombel