Maybank Islamic is developing outside Malaysia, establishing a footprint in the region. With a return on equity of 16%, achieved despite a capital ratio of 17%, the trick will be to sustain the bank's bullish approach to investing despite the country's economic downturn.
---
---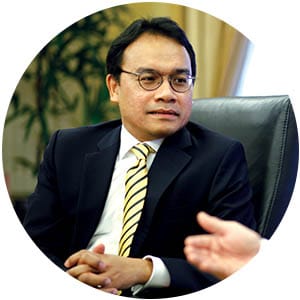 Global Finance: What is propelling the growth in Islamic assets and liabilities at Maybank Islamic?
Dato' Muzaffar Hisham: Maybank Islamic continues to record strong growth, capitalizing on our leading position domestically and the strength of Maybank Group. We continue to launch innovative shariah-compliant products with increasing demand. We also place significant emphasis on risk management.
GF: Where do you see the best opportunities over the next couple of years?
Hisham: Maybank Islamic is concentrated in Malaysia, but we continue to develop our footprint regionally. We see strong potential in Indonesia. Our Indonesian activities have recorded very strong growth in both assets and profit. The transformation of our business model and implementation of the Shariah First Strategy was key in this success. We will not rule out looking for other opportunities in other geographical markets, but we are realistic and we place high importance on cost of capital. In addition, we place key emphasis on the regulatory environment. Some countries offer opportunities to grow, but there are many regulatory hurdles. Often reciprocal agreements come into play.
GF: What are the prospects for the sukuk market for 2016?
Hisham: The sukuk market was slightly weaker in 2015, but we see great opportunities in 2016. Already we have seen important sovereign issues in 2016, including Indonesia and Malaysia. Overall, sukuk issuance domestically is well up from the corresponding period of 2015. In regard to corporate sukuk, it is aligned to GDP growth, and we are seeing other positive metrics: increased stability, an improving ringgit, better equity markets and improvement in CD spreads.
GF: Will we continue to see innovation in the sukuk market?
Hisham: The sukuk market will continue to develop, including in areas of capital structures such as Tier 2 issues. The increasing use of intangible assets will continue, and other innovations, such as transportation coupons, are helping to develop the market. Social responsibility will play an increasingly important role.
GF: What new products are you thinking about introducing?
Hisham: Maybank Islamic has a very strong position in the provision of short-term investment services. In part, we are seeing an evolution from the function of a credit intermediary to an investment intermediary. We have led in many areas in this sector, including launching the Mudarabah Investment Account in 2015, which gave customers the opportunity to invest in new asset classes. We place substantial importance on risk management and view this as key in investment services. Our shariah-compliant short-term accounts offer better returns than typical deposit accounts. Short-term investment accounts are also highly efficient for the bank. We have very attractive checking accounts which provide the same services but give a much better return.
GF: What are the ambitions for Maybank Islamic?
Hisham: Our vision for 2020 is for Maybank Islamic to be the global leader in Islamic finance, encompassing universal banking products and services. Our goal for Maybank Islamic's asset base for 2020 was already exceeded in 2015. We see strong potential across the board—corporate, retail, financing, liability management and investment accounts.
GF: What are the main challenges for Maybank Islamic?
Hisham: One of the main challenges is sustainability. Efficiency is also important. The economy will always have a strong impact on performance and growth. In this regard, issues such as commodity prices, currency fluctuation, growth in China and tapering will have an impact.
GF: What are the current returns like at Maybank Islamic?
Hisham: Our return on equity is strong at 16%, achieved despite a high capital ratio of 17%. It underlies our strong performance and operations. The challenge is sustainability.