Argentina's leaders believe they can attract more foreign investment, and have huge expectations for its benefits.

---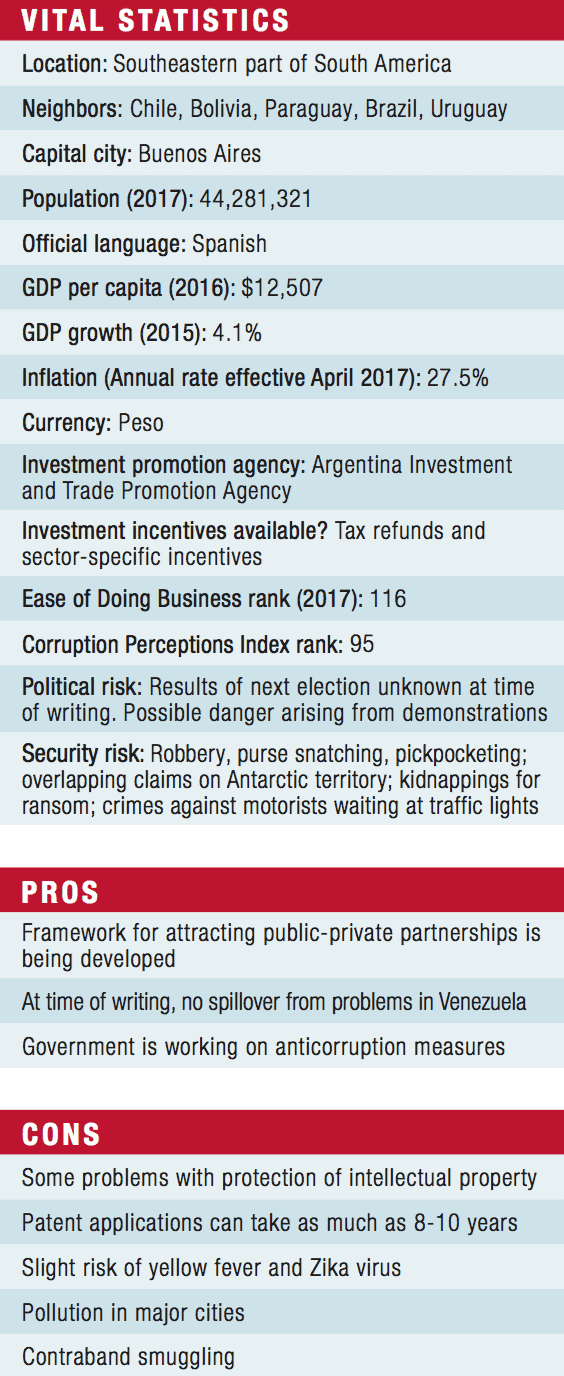 Argentina's efforts to smooth the way for business have been uneven, but with Mauricio Macri and his Cambiemos ("Let's Change") coalition in power since December 2015, the nation holds promise for a more business-friendly future.
"We're in a time of transition now; opportunities are really opening up," says Emily Sinnott, a World Bank lead economist with deep experience in Latin America. "We have to hope that this continues."
During the campaign, Macri promised to resolve a multibillion-dollar dispute with American hedge funds that was limiting the nation's access to credit markets, and to invigorate the stagnant economy. The government took care of the first part by settling the suit for $4.7 billion. Clearing the old debt opened up international debt markets. In June, Argentina issued $2.8 billion in US dollar-denominated bonds.
Macri's government has since turned to stimulating foreign direct investment (FDI) as a key to economic health. The plans are ambitious. The Argentina Investment and Trade Promotion Agency has identified $260 billion in investment opportunities in energy, mining, transportation and infrastructure, including railroads, ports, airports and other transportation facilities. The government actively courts FDI participation in the financing, development and operation of such projects. Success in attracting FDI could help Argentina become a kind of regional hub.
The Organization for Economic Cooperation and Development predicts strong growth and decreased inflation for 2017 and 2018, with increased investment attracted by the improving business climate. Advantages for an investor include the government's efforts to bring down inflation, stabilize currency exchange rates and lift foreign exchange controls, Sinnott adds. Since December 2015, Siemens, Dow Chemical, Royal Dutch Shell, Banco Santander, Pan American Energy and Coca-Cola have announced plans to invest or increase existing investments.
"The central bank has credibility in terms of the inflation target range. [And there is] a strong policy emphasis on reducing inflation, which is the key to everything," Sinnott says. Moreover, Argentina's high interest rates relative to those of many countries can attract foreign capital, and a lowered peso should spur increased exports.
Notwithstanding the good news, companies looking to invest in Argentina face some uncertainties concerning the government's continued ability to improve macroeconomic stability and lower inflation. "Besides political risk, investors look at inflation and exchange-rate risk," Sinnott says.
Congressional elections in October put one-third of the Senate seats and approximately half of the seats in the Chamber of Deputies up for grabs. It remains to be seen whether the results will show increased support for Macri's plans for pro-business reforms. A decrease in support appears unlikely; an increasingly fragmented political opposition may work in Macri's favor.