Adnan Ahmed Yousif, president and CEO of Al Baraka Banking Group, talks with Global Finance about fintech, the changing regulatory environment and hurdles to overcome.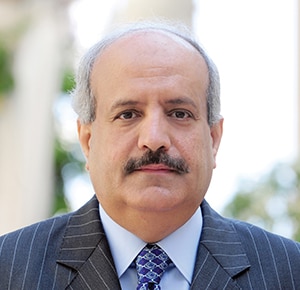 Global Finance: Would you say Bahrain's banking sector is currently reinventing itself?
Adnan Ahmed Yousif: Given the leading role of Bahrain's banking sector regionally and internationally, it is to be expected that we will move fast to be ahead of the new wave of banking services.
It is encouraging to observe that while the latest technology adoption acts as a part of the bank's challenges, it can also help the bank with solutions to some teething issues. Emerging technologies could be used to tackle underlying cost and quality issues in operations, and at the same time enhance financial performance, address the competitive threat from new entrants and offer customers a whole new service suite.
GF: How does the regulatory environment encourage innovation?
Yousif: Bahrain has had a long history of proactive adoption of new technology. Over the past few years, the CBB [Central Bank of Bahrain] has taken a number of important steps in this area, including the regulatory sandbox for fintech and endorsement of Bahrain FinTech Bay.
Early this year, the CBB issued many regulations aimed at enhancing digital banking. These new rules will enable specialized fintech firms planning to offer digital financial advice to obtain a license. In addition, banks and investment firms will now be able to introduce new services under CBB supervision.
Cryptoassets operating under blockchain distributed-ledger systems have also drawn much regulator attention globally, and the CBB established rules aimed at ensuring that related activities are brought within the regulatory perimeter where they will be subject to supervisory measures. These new initiatives are a continuation of the CBB's efforts to provide the right mix of policies and products to develop and enhance the quality and competitiveness of services in the financial sector.
GF: Tell us about customer data, cloud policies and open banking. How are you going to implement the CBB's new policies? What can customers expect?
Yousif: Open banking creates competition in the Bahraini market and provides better services and products to customers. The concept of open banking is that data is owned by the customers and not banks. The banking industry, through the Bahrain Association of Banks, has a specialized permanent committee that has engaged with the CBB to develop a process for implementing this regulation, especially developing application programming interface standards. We hope the targets will be achieved during the coming months.
GF: What are some of the hurdles you face? How do you think these challenges can be overcome?
Yousif: Like any other major move, open banking and digital banking involve deep changes. Education, training and awareness are needed to develop the right skills for dealing with the transformation. Huge investments in IT and systems, as well as adoption of new internal policies and procedures to ensure compliance with the new regulations, are also necessary. This transformation will reshape the products and services of the banks and will create severe competition from the newcomers. All these challenges, among many others, require banks to develop new strategies. The banks must also try to benefit from each other's experience in order to create new business opportunities.
GF: What are the investment opportunities in Bahrain today?
Yousif: Bahrain offers opportunities across all major aspects of finance, from banking and asset management to fintech, insurance and Islamic finance. The country continues to attract local and international institutions that wish to capitalize on significant growth in regional demand across the full spectrum of banking services. Bahrain's banking industry has expanded thanks to the support of an open-market economy, stable and prudent macroeconomic and fiscal policies, and a highly capable, well-qualified local workforce. Furthermore, Bahrain's rigorous, comprehensive regulatory framework is in line with international standards.