Riad Salamé, governor of Lebanon's central bank, discusses economic conditions for his country and the region in general, and how Lebanon benefits from its "strong, healthy and conservative banking sector."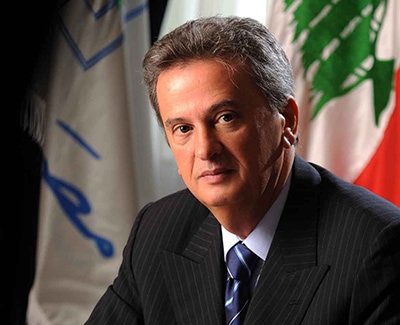 Global Finance: What is your assessment of the economic climate in the Levant?
Riad Salamé: The challenges that the region has been facing for a number of years now are not expected to cease in the short term. Despite certain global improvements, such as the second wave of normalization of interest rates in the US or the implementation of more robust worldwide financial stability measures, regional economic growth predictions still remain below expectations. Yet in this context, national authorities have not spared efforts to boost economic growth—particularly investment and consumption.
GF: What impacts can be expected from developments in Syria and Iraq?
Salamé: If the recent developments in Syria and Iraq are trending toward optimism, the regional risks and strains that Lebanon has been facing will be alleviated, which in turn will have positive impact on the Lebanese economy as a whole.
GF: How is the Lebanese economy doing?
Salamé: The Lebanese economy has always been resilient, and we expect it to grow in real terms at a rate of 2.3% this year, an improvement from the previous one. The banking sector is healthy with growing rates on various fronts: Total banking activity grew by around 7% on an annual basis, with total assets of banks exceeding $209 billion in August 2017. Bank deposits increased by more than 8% year-on-year and are expected to grow by 6% for this year, while lending activity registered 4.2% growth on an annual basis till August 2017. In terms of capitalization, banks' capital base reached $18.6 billion in August 2017, with an annual growth rate of 7%.
Banque du Liban (BDL) will spare no effort to ensure that the Lebanese economy regains momentum. The stimulus packages that we launched in 2013 in support of various economic sectors are still playing a key role in boosting economic activity. And we are expanding them.
The Lebanese knowledge economy is also on a strong growth trend, with a noticeable enlargement of the ecosystem. The main objectives behind Circular 331 are being met: reversal of brain drain, job creation and fostering of innovation. As long as the Lebanese youth are eager to develop their ideas in Lebanon and turn them into valuable assets, Lebanon will have a promising future.
GF: Is the pound's exchange rate with the dollar at risk?
Salamé: Lebanon's national currency is stable and will remain so, thanks to the monetary policy the Central Bank of Lebanon has pursued. BDL's historical accumulation of high stock of foreign currency assets has acted as an indispensable buffer, continuously protecting the Lebanese pound and the financial sector overall from major political, security and economic shocks. The Lebanese pound's stable exchange rate strengthens confidence in the economy, reinforces purchasing power and contributes to the stability of the interest rate structure.
GF: What is the outlook for Lebanon? What are your main areas of focus?
Salamé: The outlook will remain positive as long as we maintain confidence. The resilience of our economy comes from the quality of our human resources, the diaspora and a strong, healthy and conservative banking sector that is up to international standards and practices. Our areas of focus for the coming year will remain the Lebanese knowledge economy, and also solid development of various sectors. We have expanded the stimulus package to support the creative industries, in addition to the working capital of industrial exporters. These packages will continue to be flexible and attentive to the market's needs.