Robust demand for housing opens new opportunities for foreign developers to contribute—and profit.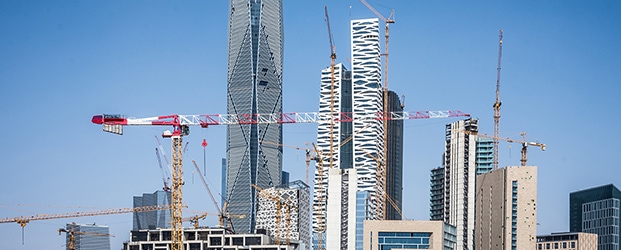 Saudi Arabia's fast-growing middle class is driving high demand for housing, prompting the government to lure more foreign investment to address a shortage. This creates major opportunities for developers from China, South Korea and the US, all of which have signed multibillion-dollar contracts for residential projects in the kingdom.
Saudi Arabia's housing minister, Majed Al-Hogail, said earlier this year that he expects investment in the kingdom's real estate sector to reach $21 billion in 2019. Sixteen government agencies are working together to promote homeownership.
"We recognize each family's aspiration to own a home and the important role homeownership plays in strengthening family security," reads Saudi Arabia's Vision 2030, which plans to increase homeownership with new laws and regulations; encouraging the private sector to build houses; and providing funding, mortgage and ownership solutions that meet citizens' needs.
Expanding mortgage financing also will increase growth in the financial sector. Until recently, access to mortgages has been scarce, but policy changes are encouraging banks to extend more housing loans. The Saudi Arabian Monetary Authority (SAMA) increased loan-to-value limits from 70% to 85% in 2017, and to 90% last year, meaning that down payments have been cut to as low as 10%. The government also introduced subsidies for low-income and first-time homebuyers through its Real Estate Development Fund. The government plans to spend $32 billion on subsidized home loans by 2030. The Saudi Real Estate Refinance Company (SRC), patterned after Fannie Mae in the US, issued $200 million of sukuk in March under a nearly $3 billion program run by HSBC Saudi Arabia.
The Saudi stock exchange now lists 17 REITs, or real estate investment trusts, under a program that began in 2016. This will help to channel foreign investment into Saudi real estate as the kingdom develops a modern housing market.
The government has signed a series of deals with foreign real estate developers. China's WinSun, which uses 3D printing to build houses, won a $1.45 billion contract, promising to cut waste, time and labor in the construction of 1.5 million homes. In October, a subsidiary of Power Construction Corp. of China signed a $2.7 billion deal with the Saudi housing ministry and the National Housing Company. Another $1.2 billion agreement was signed with a Saudi-Chinese partnership, Sany Alameriah. Katerra, a Softbank-owned high-tech builder based in California, has signed a memorandum of understanding with the Saudi housing ministry to build up to eight factories in the kingdom to manufacture 50,000 housing units a year, using an "integrated factory" model that connects factories to job sites.
In an early public-private partnership in the sector, the housing ministry set up a partnership with a Saudi-US joint venture, Al Tahaluf Real Estate, which is partly owned by K. Hovnanian Homes of New Jersey. Al Tahaluf and Las Vegas, Nevada-based Omni Block have invested in a factory to manufacture wall assemblies that have mechanical, electrical and plumbing works embedded, to be quickly assembled onsite. The system also uses a truss manufactured by a joint venture of Zamil Steel of Saudi Arabia and Steel Plus, an affiliate of Canada's Canam Group.
South Korean companies were among the first to cash in on Saudi Arabia's housing construction boom. In 2016, a consortium including Hanwha Engineering & Construction and Daewoo Engineering & Construction won a $20 billion project to build city infrastructure and 100,000 homes near the Riyadh airport, in conjunction with Saudi Pan Kingdom, a local contractor.
According to the US-Saudi Arabian Business Council, the value of construction contracts awarded in the kingdom grew to $13 billion in the first quarter of 2019, a 113% increase from the same period a year earlier, and equal to 48% of the total value of contracts awarded in all of 2018.