Many of the Caribbean's small economies boast growth rates that put bigger economies to shame.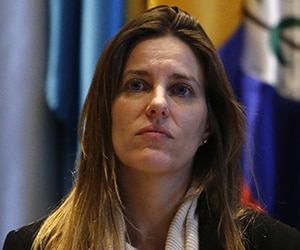 Plottier, Eclac: The DominicanRepublic is the main recipientof foreign investments in theCaribbeanin part becauseof its good macroeconomicperformance.
The colorful and sunny Caribbean region is turning into a good place for investors seeking opportunities in the tourism and real estate industries—as well as those who see the advantages of these idyllic islands' location, so close to huge consumer markets in North and South America. Despite international turbulence, most Caribbean countries are addressing their macroeconomic vulnerabilities, changing their fossil fuel energy matrices to renewable sources and supporting new industries and start-ups.
Some Caribbean nations have been in very good shape for a long time. The Dominican Republic, for example, has averaged 6.6% growth over each of the past five years. Tourists from the US and remittances from Dominican workers closely link the island's economy to the US. Since the US economy is still expanding, albeit at a reduced pace, the prospects for this Caribbean country are still good. The Dominican economy should grow 5.2% this year, according to the World Bank.
"The Dominican Republic is the main recipient of foreign investments in the Caribbean, in part because of its good macroeconomic performance," says María Cecilia Plottier, from the United Nations Economic Commission for Latin America and the Caribbean (Eclac).
At least nine local economies are projected to beat the Caribbean small-state average of 1.6% GDP growth in 2019, according to the World Bank. Those include Turks and Caicos, projected by the World Bank to deliver 5.3% GDP this year; St. Kitts and Nevis, the first of the islands to bring its debt-to-GDP ratio under 60%, per the Eastern Caribbean Currency Union goal (3.5% growth); Antigua and Barbuda, despite slower-than-expected construction projects (4% growth); and the Cayman Islands (3%) and Grenada (4.2%), which have both seen 10% increases in overnight visitors. Their performance is set to well outshine the region's giants, such as Brazil (facing 1.5% growth) and Mexico (facing 1.7% growth).
But about half the Caribbean economies aren't doing as well, with growth at or below the average. Economic forecasts for the Bahamas, earlier expected to post GDP growth of around 2.1% in 2019, will undoubtedly be lowered due to Hurricane Dorian in September.
Three other Anglophone countries facing slow or negative economic growth—Jamaica, Barbados, and Trinidad and Tobago—are providing stimulus to sectors that can add job opportunities and bring prosperity. Barbados, for example, is looking to convert its entire energy grid to renewable sources before 2030. According to Barbados' former Central Bank Governor DeLisle Worrell, the shift to renewable energy could double the country's GDP in a few years. Jamaica, meanwhile, is increasing its efforts to attract manufacturing, finance and insurance investors.
Cuba, deeply impacted by both the Venezuelan crisis and Washington sanctions, is challenged further by altered relationships with some of its trade partners due to political shifts. Brazil, for example, which recently elected a right-wing president, has erected barriers to the import of medical services from Cuba—stifling a substantial source of Cuba's income.
While the administration copes with the country's macroeconomic imbalances, the nonstate sector—which includes worker-owned cooperatives and grassroots unions—has generated 1.4 million jobs in this Communist nation. Created in 2014, the consulting firm Auge, for example, is working with 50 clients in various businesses, such as inns, restaurants, and repair shops for autos and appliances. According to Oniel Díaz, Auge's coordinator, these small companies together give jobs to 600,000 people; and every day, more Cubans fueled by the remittances from the US are willing to invest in their own business.