Sector and geographical diversity in our ranking are on the rise, as oil and gas keep a low profile and big sub-Saharan economies stall.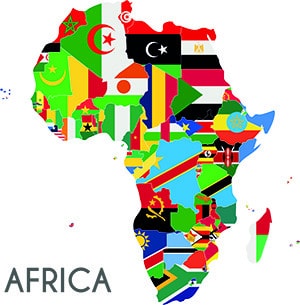 The composition of the ranking changed significantly this year; only eight of last year's best-performing companies kept a place in the top 25. Competition at the top is high as the numbers of the smartest companies improve. The average solvency ratio increased by 2.6 percentage points to 75.4%. Average return on assets grew 4.8 points to 19.2%, and average profit margin increased 7.5 points to 34.5%.
Petrochemical and mining companies remain largely distanced from the top ranks, despite a nascent recovery in oil. That has brought greater diversity to the list. IT services, construction and civil engineering, transport and logistics, and wholesale and retail trade companies have an increasing presence among the top 25 this year, while hotels, restaurants and food-sector firms are scarcer, along with oil and mining.
Although growth started recovering in 2017, South Africa took a hit this year with only 9 companies, compared to 14 last year. The great beneficiary has been Egypt, which went from two companies represented last year to seven this year.
The geographic balance is likely to keep shifting as South Africa's economy dwindles—in technical recession since the second quarter. John Ashbourne of Capital Economics says this year "the outlook is, again, very poor for the larger economies in Africa," and while the worst seems to be over he still sees weak growth ahead.
Nigeria suffered a painful recession in 2016 and 2017, and its recovery is faltering. Ashbourne says growth should pick up in the coming months, but nevertheless, "with the country's politicians gearing up for next year's election … there is very little chance of a real policy shift, so conditions will remain very weak."
Prospects are better for smaller sub-Saharan economies. "Kenya is growing well, as are Ghana and Côte d'Ivoire," Ashbourne says. "Ethiopia is also quite an exciting place at the moment." The fastest-growing African economy in the last five years, according to the IMF, Ethiopia is gaining momentum. "The new prime minister has launched a faster and more ambitious reform program than we had expected," says Ashbourne. "It is a very positive sign that the leadership is planning ahead."
In northern Africa, Egypt's growth is expected to pick up. A looser monetary policy and slower fiscal consolidation should bolster growth, and the Egyptian pound, devalued in 2016, should sustain exports. "Expectations for the agricultural sector are poor, but the rest of the sectors are performing well, and investment continues to pour into manufacturing," says Jason Tuvey, analyst at Capital Economics. His firm's outlook for Morocco is modest for 2018 and more positive further out, while Tunisia is more sluggish. Tourism seems to be recovering, but the balance of payments is a concern.
These highly changeable rankings illustrate the rapid pace of change in Africa. Market and geopolitical forces seem to be working toward increased diversity among the best-performing companies—and helping Africans move up the value chain, beyond raw materials.
---
Methodology
The 25 Best-Performing Public Companies  in Africa ranking evaluates nonfinancial companies on four measures: liquidity, solvency, return on assets and profit margin. We analyze the data for the top 350 companies by market capitalization. 
Firms are given a score on each measure, and those fi gures are totaled to create an overall score. A low score on each measure is equated with best performance, and the company with the lowest overall score places highest in the ranking.
---
Top 25 Best-Performing African Companies
---
| Rank | Company | Country | Sector | Reporting Yr | Total Assets (US$) | Operating Revenue (US$) | Liquidity Ratio | Solvency Ratio (%) | Return on Assets (%) | Profit Margin (%) | Total Score | Market Cap ($US) |
| --- | --- | --- | --- | --- | --- | --- | --- | --- | --- | --- | --- | --- |
| 1 | Alexandria Container And Cargo Handling Company S.A.E. | Egypt | Transport & logistics | 2017 | 277,660 | 150,391 | 10.17 | 92.33 | 43.77 | 81.24 | 32 | 1,301,202 |
| 2 | Rea Vipingo Plantations Limited | Kenya | Textiles, wearing apparel & leather | 2016 | 41,346 | 40,553 | 7.60 | 82.85 | 33.62 | 41.36 | 70 | 16,728 |
| 3 | Bauba Platinum Limited | South Africa | Metal & metal products | 2017 | 23,164 | 17,557 | 4.40 | 89.54 | 18.43 | 58.49 | 77 | 17,584 |
| 4 | Padenga Holdings Limited | Zimbabwe | Wholesale & retail trade | 2017 | 84,742 | 32,495 | 7.19 | 72.81 | 15.36 | 50.37 | 119 | 3,520 |
| 5 | Capital Appreciation LTD | South Africa | IT services | 2017 | 124,006 | 44,812 | 13.40 | 94.60 | 9.71 | 37.60 | 125 | 114,715 |
| 6 | Italtile Limited | South Africa | Wholesale & retail trade | 2017 | 318,700 | 310,968 | 2.30 | 90.63 | 20.30 | 29.30 | 129 | 1,327,892 |
| 7 | Silverbridge Holdings Limited | South Africa | IT services | 2017 | 4,496 | 7,171 | 5.51 | 84.04 | 22.26 | 15.15 | 150 | 2,804 |
| 19 | Compagnie Miniere De Touissit SA | Mauritania | Metals & metal products | 2017 | 119,488 | 49,741 | 1.81 | 61.95 | 14.77 | 43.80 | 250 | 278,686 |
| 8 | Isa Holdings Limited | South Africa | Media & entertainment | 2017 | 9,637 | 9,060 | 2.58 | 76.49 | 18.74 | 26.56 | 152 | 16,218 |
| 9 | African Media Entertainment Limited | South Africa | Media & entertainment | 2016 | 23,074 | 17,975 | 2.22 | 75.38 | 15.88 | 32.21 | 169 | 28,341 |
| 10 | Egyptian Transport & Commercial Services Co. Egytrans S.A.E. (The) | Egypt | Transport & logistics | 2017 | 24,563 | 20,050 | 2.64 | 70.74 | 17.79 | 30.50 | 171 | 13,989 |
| 11 | Egyptian International Pharmaceuticals Company S.A.E. | Egypt | Chemicals, rubber, plastics & non-metallic products | 2017 | 189,515 | 142,936 | 1.74 | 75.35 | 19.44 | 35.62 | 175 | 527,317 |
| 12 | Misr Duty Free Shops | Egypt | Wholesale & retail trade | 2017 | 22,308 | 31,188 | 2.12 | 71.76 | 24.48 | 29.19 | 176 | 37,616 |
| 13 | Cairo For Educational Services S.A.E. | Egypt | Education & Health | 2017 | 5,672 | 2,305 | 2.50 | 72.02 | 12.17 | 38.80 | 186 | 5,137 |
| 14 | Mr Price Group Limited | South Africa | Wholesale & retail trade | 2017 | 671,636 | 1,456,129 | 2.29 | 75.48 | 25.38 | 16.19 | 195 | 4,339,404 |
| 15 | Canal Shipping Agencies Co. S.A.E. | Egypt | Transport & logistics | 2016 | 45,836 | 3,694 | 2.27 | 69.29 | 10.50 | 89.33 | 200 | 131,881 |
| 16 | Associated Commercial Co LTD | Mauritania | Machinery, equipment, furniture & recycling | 2017 | 11,861 | 12,912 | 5.31 | 85.47 | 12.77 | 13.15 | 203 | 5,066 |
| 17 | Societe Des Brasseries Du Maroc | Mauritania | Food, beverages & tobacco | 2017 | 277,192 | 260,005 | 2.07 | 67.36 | 15.55 | 24.18 | 229 | 899,139 |
| 18 | Telnet Holding SA | Tunisia | IT services | 2017 | 20,928 | 23,059 | 2.05 | 60.49 | 33.24 | 35.55 | 231 | 44,272 |
| 19 | Compagnie Miniere De Touissit SA | Mauritania | Metals & metal products | 2017 | 119,488 | 49,741 | 1.81 | 61.95 | 14.77 | 43.80 | 250 | 278,686 |
| 20 | Mazor Group Limited | South Africa | Construction & civil engineering | 2016 | 26,437 | 44,454 | 2.79 | 80.83 | 13.66 | 10.20 | 250 | 12,392 |
| 21 | Automobile Reseau Tunisien Et Services SA | Tunisia | Wholesale & retail trade | 2017 | 101,073 | 107,049 | 2.18 | 67.17 | 14.27 | 18.19 | 252 | 94,299 |
| 22 | Development & Engineering Consultants Company S.A.E. | Tunisia | Construction & civil engineering | 2017 | 41,091 | 26,033 | 1.19 | 73.39 | 17.13 | 48.08 | 256 | 13,852 |
| 23 | Truworths International Limited | South Africa | Wholesale & retail trade | 2017 | 1,235,526 | 1,415,431 | 3.87 | 58.55 | 17.52 | 21.18 | 258 | 2,750,053 |
| 24 | Nation Media Group PLC | Kenya | Media & entertainment | 2017 | 109,659 | 102,923 | 1.81 | 72.14 | 11.53 | 18.40 | 262 | 166,868 |
| 25 | Euro-Cycles S.A. | Tunisia | Machinery, equipment, furniture & recycling | 2017 | 27,815 | 35,066 | 1.64 | 64.40 | 22.76 | 19.49 | 270 | 72,698 |